VATICAN CITY — Pope Francis pushed open the great bronze doors of St. Peter's Basilica on Tuesday to launch his Holy Year of Mercy, declaring that mercy trumps moralizing in his Catholic Church.
Francis stood in prayer on the threshold of the basilica's Holy Door then walked through it, the first of an estimated 10 million faithful who will pass through over the course of the next year in a rite of pilgrimage dating back centuries.
A thin and frail Emeritus Pope Benedict XVI walked through the doorway right after Francis, gingerly negotiating the two steps with the help of a cane and his longtime assistant. It was a rare outing for the 88-year-old Benedict, whose historic resignation led to Francis' election and a papacy dedicated to showing the merciful side of the church.
Some 5,000 extra police, carabinieri and soldiers have been deployed around Rome, and a no-fly zone imposed on its skies, to protect the pilgrims who are flocking to the Italian capital on foot, by car, train and plane to participate in the yearlong celebration.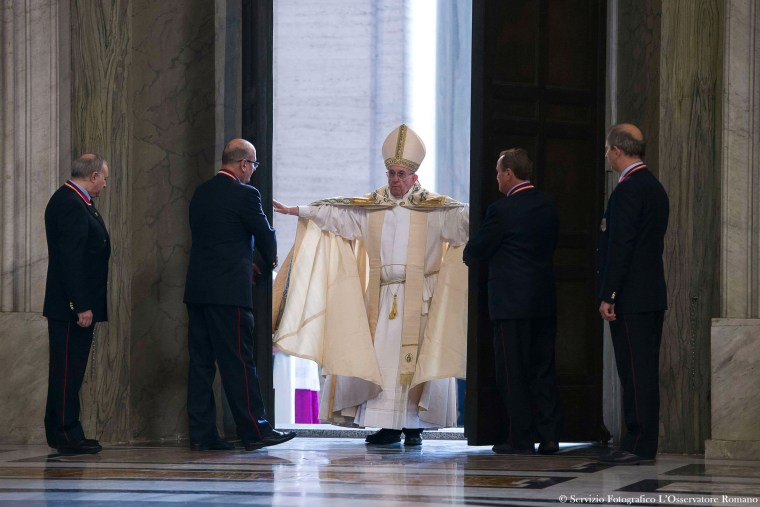 Security was heightened after the Vatican was listed as a possible target following the Paris attacks, but the extra police patrols and traffic stops extended far beyond the immediate vicinity of the Vatican or even the other main pilgrimage sites in Rome.
Some were unnerved by the show of force.
"Regarding the security, it made me afraid," Italian tourist Daniela Santi told Reuters. "Those who come here as pilgrims meet the soldiers carrying machine guns, it's scary, you feel threatened."
Francis launched the 12-month jubilee to emphasize what has become the leitmotif of his papacy: showing the merciful and welcoming side of a Catholic Church more often known for moralizing and casting judgment.
Gallery: Papal Mass Marks Start of Holy Year of Mercy
Holy Years are generally celebrated every 25-50 years, and over the centuries they have been used to encourage the faithful to make pilgrimages to Rome to obtain an "indulgence" — the ancient church tradition related to the forgiveness of sins that roughly amounts to a "get out of Purgatory free" card.
The last jubilee was in 2000, when St. John Paul II ushered in the church's third millennium and some 25 million pilgrims flocked to a Rome that had undergone a multimillion-dollar facelift for the occasion.
Elsewhere around the world, Holy Doors will be opening at cathedrals starting this Sunday.