ABOARD THE PAPAL PLANE — Pope Francis said he doesn't like singling out violence carried out by Muslims because people of all religions are guilty of deadly crimes.
He told reporters the situation was like "a mixed fruit salad" and that there were "violent people in all religions."
"I do not like to talk about Islamic violence because every day when I skim the papers ... I read about violence in Italy: this one who killed the girlfriend, another killed the mother-in-law ... and they are all baptized Catholics," he said aboard a Rome-bound flight from Poland on Sunday.
"If I talk about Islamic violence, then I also have to talk of Catholic violence. Not all Muslims are violent, just like not all Catholics are violent," the pontiff added. "It's like a mixed fruit salad. There is a bit of everything. There are violent people in all religions."
Pope Francis was responding to a question about an ISIS-linked attack on a church last week in which knife-wielding attackers slit the throat of a priest.
The pontiff had been asked why he never would "talk about Islam, about how you would counter the Islamic violence."
He responded that it was "not fair to identify Islam with violence and terrorism. It's not fair, and it's not true."
The pope went on to suggest that capitalism is another form of terrorism: "When you place at the center of the world economy the 'God of Money,' that's terrorism against all humanity."
The pope appeared in good spirits, despite the grueling schedule during his five-day trip to Poland and what looked like a painful fall Thursday. "I was looking at the [image] of the Virgin Mary, and I missed a step," Francis said. "But I feel perfectly fine."
The in-flight news conference took a fun turn when the pope briefly tried on a hat from Panama, the country chosen to host the next World Youth Day in 2019. He then thanked the Rev. Federico Lombardi, his spokesman for the past 10 years, who will retire after this trip, and he even cut the first slice of a special farewell cake.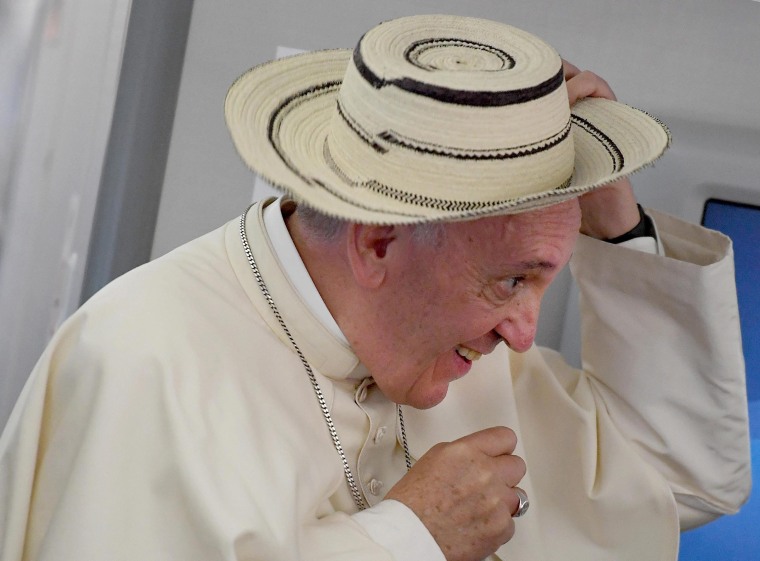 Francis arrived Wednesday in Poland in the shadow of the country's own pope and saint, John Paul II, but he proved to be just as popular. Hundreds of thousands of young people from all over the world attended his final mass in the outskirts of Krakow, which marked the end of his visit and of World Youth Day.
On the way to Krakow, the pope warned that the world is at war — although stressing that the battle was not drawn along religious lines.
But World Youth Day was all about peace and fraternity, with music, dance and, of course, prayers.
Throughout his trip, Francis posed for selfies with youths, and yet he warned them about the risks of isolation posed by the internet and social media, asking them not to become "couch potatoes."
He also highlighted more than once the plight of refugees, especially from war-torn countries, and asked the youths to welcome them with open arms — a message, perhaps, that was also meant for Poland's government, amid Europe's migrant crisis.