SARAJEVO, Bosnia-Hercegovina — Pope Francis landed in Muslim-majority Sarajevo early Saturday on a trip that he called "a sign of peace" — some 20 years after the end of a deadly civil war in which the city was kept under siege.
In a one-day trip, he hoped to lend weight to European Union efforts to bring change to a country still scarred by the war that claimed 100,000 lives after the break-up of Communist Yugoslavia.
Francis received a joyous welcome from thousands of cheering Bosnians who lined his motorcade route through the mostly Muslim city of 300,000. Another 65,000 people, most of them Catholics, packed the same Sarajevo stadium where St. John Paul II presided over an emotional post-war Mass of reconciliation in 1997.
Related: Sarajevo Landmark in Iconic Photo Is Reborn
The most emotional moment of Pope Francis' visit to Sarajevo came during his meeting with the religious in the city's Cathedral of Sacred Heart.
After he heard the testimony of two priests and one nun, who described the hardship they had to endure during the war, Francis said: "I prepared a nice speech, but after what I heard, I feel the need to speak off the cuff."
"Those testimonies spoke for themselves," the pope continued. "This is your memory. And a nation who forgets its memory has no future. Don't forget your past. Not to seek revenge, but to seek peace. To learn to love as they did."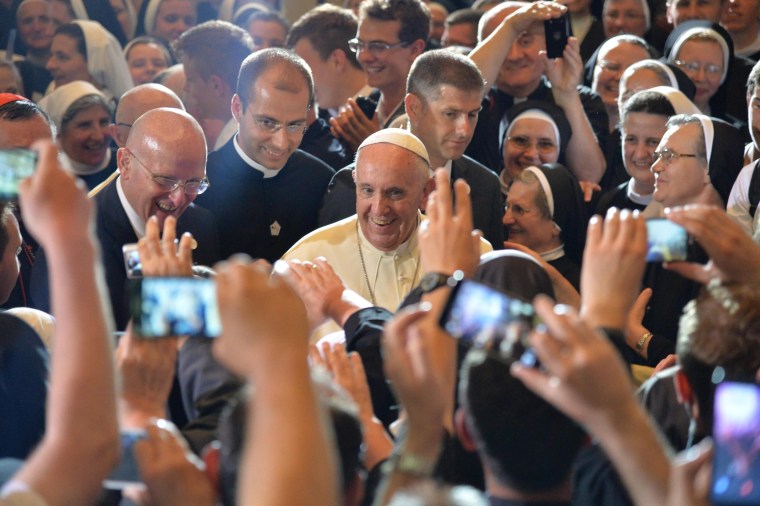 The 78-year-old Jesuit had a packed schedule with meetings with government officials as well as an interfaith gathering, where he was expected to stress the role of different faiths in overcoming divisions, and finally, a rally with young people.
He told a group of Bosnian children: "If you are enslaved to your computer, you loose your dignity."
Earlier, Pope Francis told reporters on the flight from Rome that "Sarajevo is called the Jerusalem of the West."
"It is a city with very different religious and ethnic cultures. It is also a city that has suffered a lot throughout history," he said, adding, "It is now undergoing a road of peace and to talk about this is why I'm making this trip, as a sign of peace and as a prayer for peace."
Catholics, the majority of them ethnic Croats, account for about 15 percent of Bosnia's 3.8 million people. Croats share power with Muslim Bosniaks in Bosnia's Federation, created along with the Serb Republic under a U.S.-brokered peace deal that divided up the government into an unwieldy system of ethnic quotas plagued by nationalist politicking.
"This is your memory. And a nation who forgets its memory has no future. Don't forget your past."
In April 1997, visiting a devastated and snowbound Sarajevo less than two years after the war's end, the then-Pope John Paul II urged "the courage of forgiveness" and reconciliation.
But 18 years on, Bosnia remains politically divided along ethnic lines and trailing its ex-Yugoslav peers on the road to integration with Western Europe.
Francis' visit comes just days after the EU set into action a long-delayed agreement on closer ties with Bosnia, a first step toward possible EU membership and a bid to address frustrations over poverty and corruption that were behind widespread civil unrest in February 2014.
Alastair Jamieson reported from London.