COLOMBO, Sri Lanka — Pope Francis didn't just give Sri Lanka its first saint on Wednesday. He also drew a crowd so large and interfaith in a minority Christian nation that it stunned even the Vatican.
Christians make up just seven percent of the population in Sri Lanka, where the vast majority — around 70 percent — are Buddhist and nearly 13 percent are Hindu.
Among the hundreds of thousands of Sri Lankans lined up in Colombo to greet the pope were a large number of well-wishers hailing from non-Christian denominations who welcomed the pontiff's visit wholeheartedly.
"Even Buddhists were waving their flags in happiness from the steps of a Buddhist temple when he arrived," Amal Nanayak Kata, a 56-year-old Buddhist, told NBC News. "We are all delighted he came to bless our beautiful island."
Shyamala Rasarantnam, a 55-year-old Hindu, said he was impressed by the pontiff's waterfront mass and by his demeanor.
"He exuded peace and calm and an abundance of kindness and empathy," Rasarantnam told NBC News. "He stressed that in the end all religions should live in peaceful existence."
While Pope Francis is no stranger to warm welcomes, Sri Lanka's all-inclusive display of affection took even the Vatican by surprise.
"There were so many people on the way from the airport, it was very impressive," Father Federico Lombardi, the pope's spokesman, told a press briefing on Tuesday. "We didn't expect this warm of a welcome in a country in which Catholics are not the majority."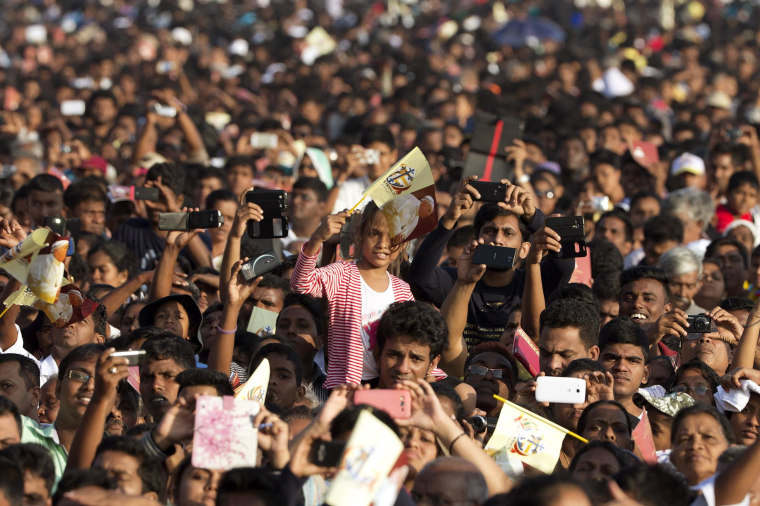 While interfaith dialogue has ranked high on the pope's agenda since his 2013 election, Francis' call for reconciliation has hit a nerve in Sri Lanka — a country where religious tensions have run deep.
The pope told Buddhist, Hindu and Muslim leaders in Sri Lanka that he hopes his visit will "encourage and deepen the various forms of inter-religious" cooperation undertaken in recent years.
That message appealed to Gazalli Mohideen, a 53-year-old Muslim, who cited the pope's universal appeal.
"It's a fantastic opportunity, especially thanks to this pope, who works towards multi-religious harmony," Mohideen said. "And when it comes to Sri Lanka, multi-religious harmony is the need of the hour."
To prove that he practices what he preaches, the pope on Wednesday traveled to Madhu — a northern region which was at the crossroad's of Sri Lanka's bloody 25-year civil war.
"There are families here today which suffered greatly in the long conflict which tore open the heart of Sri Lanka," the pope told a gathering, urging reconciliation for "all the evil which this land has known."
"Only when we come to understand, in the light of the cross, the evil we are capable of and have even been a part of, can we experience true remorse and true repentance," he said after releasing a dove. "Only then can we receive the grace to approach one another in true contrition, offering and seeking true forgiveness."
The Associated Press contributed to this report.