Pope Francis asked for forgiveness Friday from refugees in Bangladesh for all the hurt and indifference they have endured, demanded their rights be recognized and pronounced the word he had so assiduously avoided only days earlier in Myanmar: "Rohingya."
In a deeply moving encounter, Francis greeted and blessed a group of Rohingya Muslim refugees, grasping their hands and listening to their stories in a show of public solidarity over Asia's worst refugee crisis in decades.
He apologized for the "indifference of the world" to their plight and then pronounced the name of their ethnic group to a gathering of Muslim, Buddhist, Hindu and Christian leaders.
He said: "The presence of God today is also called 'Rohingya.'"
The 16 Rohingya — 12 men, two women and two young girls — had traveled to Dhaka from Cox's Bazar, the district bordering Myanmar where refugee camps are overflowing with more than 620,000 Rohingya who have fled what the U.N. says is a campaign of ethnic cleansing by Myanmar's military.
The Myanmar government has denied any such campaign is underway. The army says "clearance operations" are targeting militants who attacked security positions in August.
Myanmar does not recognize Rohingya as an ethnic group and calls them "Bengalis."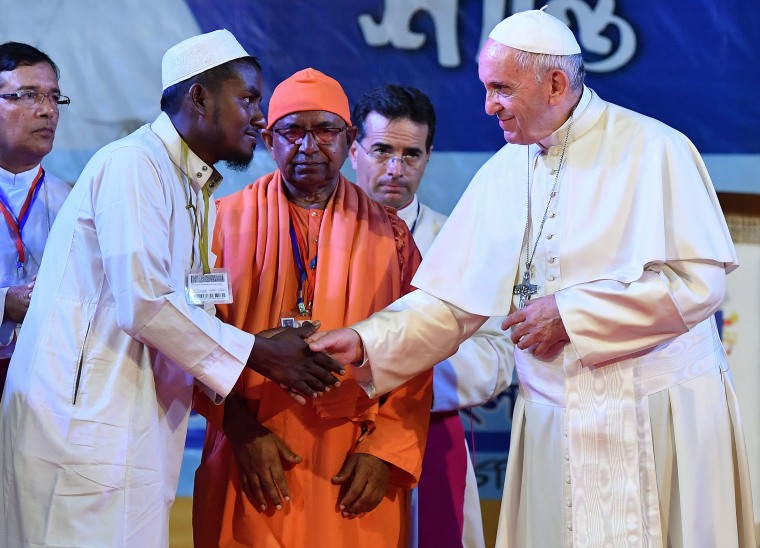 One by one, each of the refugees approached the pope at the end of Friday's event in the tented garden of the Dhaka archbishop's residence. Francis blessed one little girl, placing his hand on her head, and grasped the shoulder of a young man. The women who approached him pushed aside their headscarves so they could speak, offering their hands out for him to hold.
"Maybe we can't do much for you, but your tragedy has a place in our hearts," Francis told them.
His voice trembling with emotion, he continued: "In the name of all those who persecute you, who have persecuted you, and those who have hurt you, above all in the indifference of the world, I ask you for forgiveness. Forgiveness."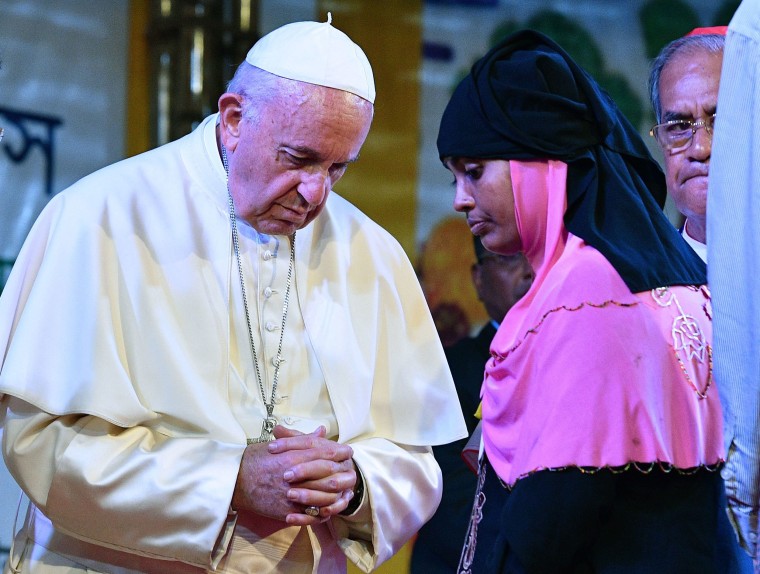 Francis, who had refrained from publicly raising the crisis while in Myanmar out of diplomatic deference to his hosts, didn't identify the Rohingya by name, ethnicity or faith in his arrival speech. He referred only to "refugees from Rakhine state."
But his words were sharp, lamenting the "immense toll of human suffering" among the refugees and the sacrifice Bangladesh was making to try to cope with what has become Asia's worst refugee crisis in decades.
"It is imperative that the international community take decisive measures to address this grave crisis, not only by working to resolve the political issues that have led to the mass displacement of people, but also by offering immediate material assistance to Bangladesh in its effort to respond effectively to urgent human needs," he said.
Human rights organizations and Rohingya themselves had voiced disappointment at Francis' public silence in Myanmar, given he had previously denounced the persecution of "our Rohingya brothers and sisters."
The Vatican defended it as diplomatically necessary, and stressed that his silence in public didn't negate what he had said in the past, or what he was saying in private.