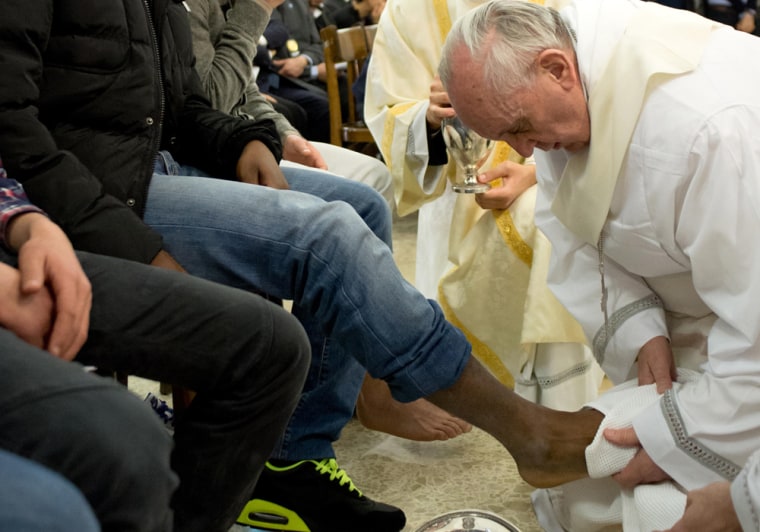 ROME – Since he was elected leader of the Roman Catholic Church, Pope Francis has proved many times over that he wants to break away from clerical privilege, come down from St. Peter's throne and act as a humble servant of the faithful.
And on Holy Thursday he reinforced the idea that he will champion social outcasts and the poor by washing the feet of a dozen young inmates in a juvenile detention center.
The washing of feet is an important religious rite on Holy Thursday -- the day Christianity celebrates Jesus' Last Supper ahead of his crucifixion -- as it re-enacts Christ's humble gesture toward his disciples before the meal.
He washed their feet to show that "no servant is greater than his master, nor is a messenger greater than the one who sent him," according to Gospel of St. John 13:16.  
But while in the past Francis' predecessors washed the feet of priests in the Basilica of St. John in Lateran -- the most important of the four major basilicas in Rome -- Francis chose to kneel down before young offenders at the Casal del Marmo Penitentiary Institute for Minors.  
The group of 12 young people who had their feet washed and kissed by the pope included two young women - the first time a pope included females in the rite. The ceremony has traditionally been limited to men, since all of Jesus' apostles were men.
The young people were aged between 16 and 21 and chosen from different nationalities and religious backgrounds - including two Muslims, according to a Vatican spokesman.   
"It is a gesture of humility and service," Father Tom Rosica, a Vatican Press Office spokesperson, said before the ceremony.
"It teaches that liberation and new life are won not in presiding over multitudes from royal thrones nor by the quantity of bloody sacrifices offered on temple altars, but by walking with the lowly and poor and serving them as a foot-washer along the journey," he added.
'Viva Papa Francesco!'
As surprising as the decision by the pope might have seemed, Alessandro Speciale, a Vatican correspondent for Religion News Service, said he was just continuing a tradition he started in Buenos Aires.
"He has washed the feet of the poor and inmates on most Holy Thursdays as a cardinal and archbishop in Argentina," Speciale said. "What's surprising is that, as a pope, he is the one going to the inmates, and not the other way around."
Speaking to about 1,600 priests who packed St. Peter's Basilica for Mass on Thursday morning, Francis talked about the need to concentrate on the people they are ministering to.
"We need to go out, then, in order to experience our own anointing (as priests)… to the outskirts where there is suffering, bloodshed, blindness that longs for sight, and prisoners in thrall to many evil masters," he said.
The simple, personal, no-frills style of Pope Francis seems to have won over many Catholics, even jaded believers.  
"It almost feels like the Vatican found itself a very good marketing and communication adviser," said Valeria Angela Montis, a 38-year-old Roman.
"But I must say I am happy to see a pope who doesn't think he is God on earth and teaches what Jesus taught 2,000 years ago…teaching the church seemed to have forgotten years ago. Francesco is an honest pope!" she added.
Others think the church should look, and learn.
"The humility Pope Francis is showing is comforting," said 40-year-old Roman Patrizia Melillo. "This is how the rest of the Church should be: normal, humble, without flaunting its privileges and richness, just like St. Francis taught. Viva Papa Francesco!"
Related links: 
Pope chooses simple residence over papal apartment
Crowds pray with Pope Francis at start of holy week 
'We're brothers': Pope meets ex-pope for historic lunch
Pope Francis spoke of being 'dazzled' by girl, possible change of celibacy rule