LONDON — Britain's Prince Andrew, one of Queen Elizabeth II's four children, is among the prominent figures to be engulfed in the uproar following Jeffrey Epstein's death in a Manhattan jail.
On Sunday, Epstein's death by apparent suicide as he was being held on sex trafficking charges was featured in news bulletins and newspaper front pages outside of the United States — in part thanks to a number of high-profile international personalities with ties to the disgraced financier who were mentioned in the newly released deposition of one of his alleged victims.
Andrew, 59, the queen's second-born son, was named in court documents released Friday.
The court documents relate to a 2015 defamation lawsuit that one of Epstein's alleged victims, Virginia Roberts Giuffre, filed against British socialite and former longtime member of Epstein's inner circle, Ghislaine Maxwell.
In her 2016 deposition included in the documents released Friday, Johanna Sjoberg — a woman who alleged she was forced by Maxwell to have sex with Epstein — said that Andrew touched her breast while they sat on a couch in Epstein's Manhattan apartment in 2001.
When NBC News asked Buckingham Palace to comment on the allegations that emerged Friday, a royal spokesperson said: "This relates to proceedings in the United States, to which The Duke of York is not a party. Any suggestion of impropriety with underage minors is categorically untrue."
The unsealed court documents revealed that Giuffre, now 36, said in her own 2016 deposition that Epstein and Maxwell directed her to provide sexual services for a number powerful American and foreign men — including a "foreign president," "a well-known prime minister" and a "large hotel chain owner."
Buckingham Palace has previously emphatically denied all allegations stemming from the 2015 court case, including Giuffre saying that she was directed to have sex with Andrew on Maxwell's orders.
The prince's name topped the headlines in British tabloids Sunday morning despite the palace's vehement denials.
"Prince Andrew faces new Epstein anguish," the Daily Mail's headline stated.
The Sun, one of the most-read tabloids in the United Kingdom, went with: "Prince Andrew's paedo pal Jeffrey Epstein found hanged in jail…"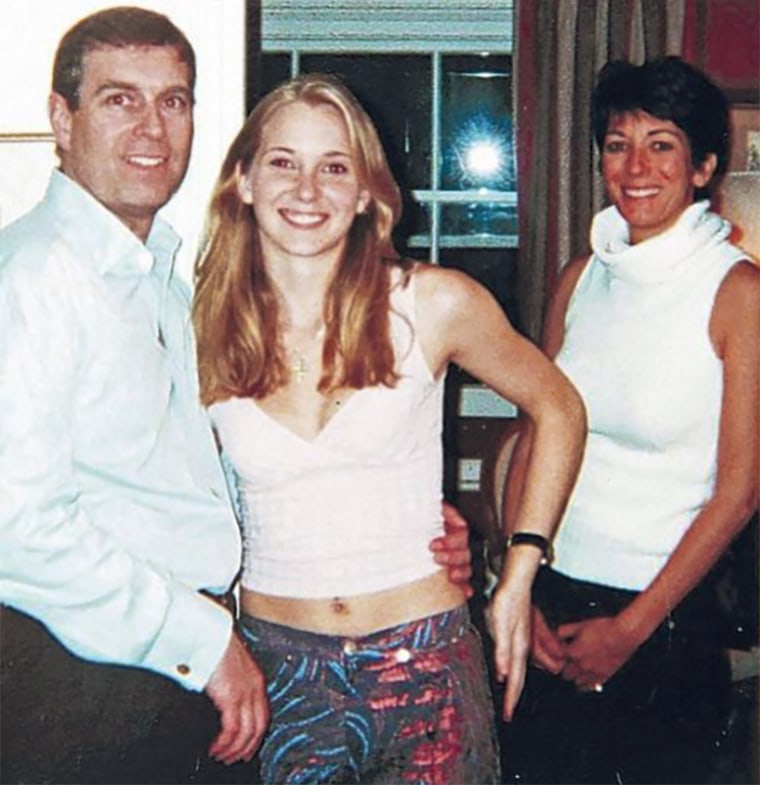 A photograph showing Epstein and Prince Andrew apparently walking in New York's Central Park in 2010 also appeared on some of the front pages. NBC News was not able to independently confirm the location and date of the photograph.
With Epstein dead, Maxwell, who is also British, was subjected to intensifying scrutiny Sunday.
The daughter of the late publishing mogul Robert Maxwell, she was a close friend and confidante of Epstein's after they were first romantically linked in the early 1990s, according to reports.
Along with Epstein, Giuffre claimed Maxwell groomed her to become a "sex slave."
Giuffre alleged that Maxwell directed her to travel and provide sexual services for high-profile men.
"There's a whole bunch of them — it's just hard for me to remember," Giuffre said, according to the court filing. "My whole life revolved around just pleasing these men and keeping Ghislaine and Jeffrey happy. Their whole lives revolved around sex."
Previously, in a motion to dismiss the 2015 suit, Maxwell's lawyers said Giuffre "produced no evidence substantiating any of her fantastical claims that she had been trafficked by Epstein, or by Maxwell, to any of these men or any others."
The suit was settled out of court in 2017.
Maxwell, who has not been charged with a crime, could not be reached for comment. Her lawyer also didn't return a request for comment upon release of the documents Friday.
A well-known French modeling agent was also mentioned in the released court papers.
Jean Luc Brunel, the owner and founder of modeling agency MC2, was named as one of the men that Giuffre was directed to have sex with by Maxwell.
The court documents released Friday didn't contain any more details about the alleged sexual encounter or encounters.
Brunel sued Esptein after Giuffre's allegations first surfaced during the 2015 case, claiming that Epstein's high-profile legal troubles have unfairly embroiled him and damaged his agency's reputation.
He had previously denied claims made by Giuffre that she was forced to have sex with him, according to the Guardian.
NBC News requested a comment from Brunel though his MC2 agency, but did not receive a response.
None of the men identified by Guiffre have been charged with a crime or named in any civil suits linked to Epstein.
Also caught in the furor is Ehud Barak, a former Israeli prime minister. While he was not mentioned in the newly released court documents, his ties with Epstein are also being scrutinized.
The Times of Israel reported Saturday that Barak had business dealings with Epstein and was a frequent visitor to his homes. NBC News was not able to confirm these reports.
"Barak, who entered a business deal with Epstein in 2015, years after the American financier served time for solicitation, has called long-rumored allegations of sex trafficking by Epstein 'abhorrent' and announced that he had officially cut off all business ties with him," the paper said.
When Barak announced his intentions to run in the upcoming national election earlier this summer, his possible links to Epstein became a hot-button issue in Israel.
Last month, Barak defended his business ties to Epstein, explaining that at the time of his work with him he believed the businessman had paid his debt to society, The Times of Israel reported.
The former prime minister told Israel's Channel 13 on Saturday that he "would have preferred never to have made contact with [Epstein]."
NBC News reached out to Barak for a statement, but his spokesperson said he had no further comment in addition to what he told Channel 13.
Epstein's death has left questions about the scope of his alleged sex trafficking network, and investigators will likely also be zeroing on his international links.
He was arrested as he returned on a private jet from from Paris, where it's been widely reported he owns property.
Epstein also owned a private Caribbean island.
NBC News has reported last month that federal prosecutors said Epstein used a foreign passport with a fake name to enter several countries in the 1980s, including the United Kingdom, Spain and Saudi Arabia.
It listed his place of residence as Saudi Arabia, according to prosecutors, who also said that Epstein's lawyers have not explained how he obtained the passport and whether he was a citizen of another country.
Yuliya Talmazan reported from London, Lawahez Jabari from Jerusalem and Chelsea Damberg from New York.