Prince Harry and the former Meghan Markle gathered with close family and friends on Saturday for the christening of their son, Archie Harrison Mountbatten-Windsor.
The intimate ceremony took place in the private chapel at Windsor Castle and was to be attended by roughly 25 people, including Prince William and Kate Middleton and Meghan's mother, Doria Ragland.
Queen Elizabeth was not able to attend because of a prior engagement.
Although Harry and Meghan chose to keep the christening private, they did offer a glimpse into the moment by releasing official christening photos on Instagram following the ceremony.
The images were captured by photographer Chris Allerton, who took the royal couple's wedding pictures in May 2018.
"The Duke and Duchess of Sussex are so happy to share the joy of this day with members of the public who have been incredibly supportive since the birth of their son," the post read. "They thank you for your kindness in welcoming their first born and celebrating this special moment."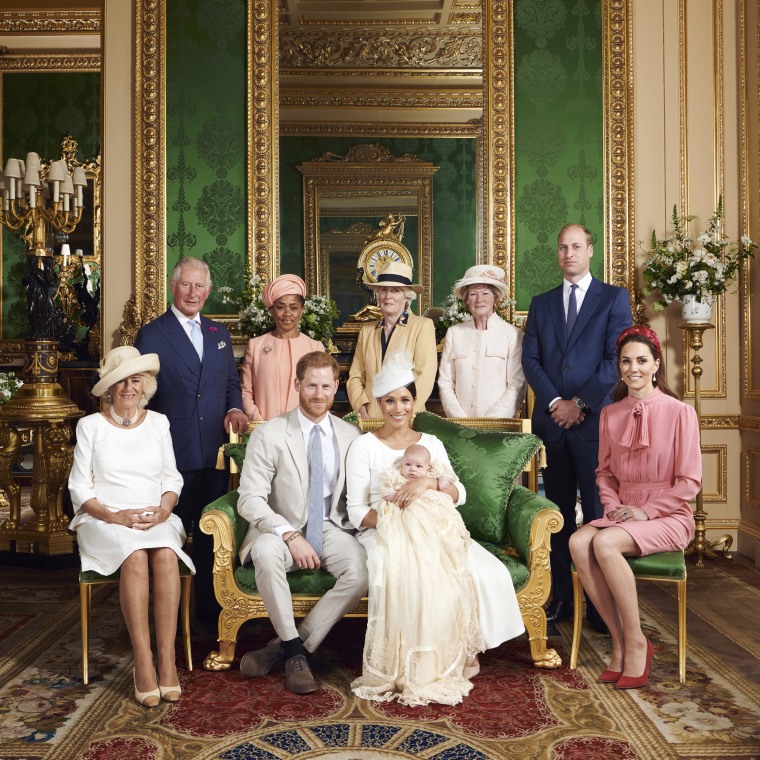 Archie was christened by the Archbishop of Canterbury, the Most Reverend Justin Welby, according to a Royal Communications press release. A large silver-gilt font called the Lily Font and water from the River Jordan were used during the ceremony, as per tradition.
Members of the St. George's Chapel Choir performed.
Archie wore a handmade replica of a royal christening robe, a gown Queen Victoria commissioned in 1841 and which was first worn by her eldest daughter, according to Harry and Meghan's Instagram post.
The original gown, made with Honiton lace and lined with white satin, was worn at royal christenings for generations including ceremonies for the queen, her children and her grandchildren.
A replica of the gown was ordered in 2004 to preserve the original one. The replica has been used for the last 11 years.
Harry and Meghan chose to stray slightly from tradition by not revealing the names of Archie's godparents. In a statement this week, Buckingham Palace said: "The godparents, in keeping with their wishes, will remain private."
Harry, 34, and Meghan, 37, welcomed baby Archie on May 6. He was introduced to the world two days later.