NOTTINGHAM, England — All eyes were on Prince Harry and his future wife, Meghan Markle, on Friday as they attended their first official royal event as an engaged couple.
Crowds waving British and American flags lined the streets of the English city of Nottingham to catch a glimpse of the couple. Earlier this week, Harry and Markle announced they planned to marry.
Both shook hands and chatted with members of the crowd, as wellwishers screamed "Harry!", "Meghan!" as they walked past. Some fans offered flowers to the U.S. actress, who starred in TV series "Suits."
There was a heavy police presence on the ground and helicopter circling overhead.
Harry and Markle were due to visit charities at a fair marking World AIDS Day before going to a school and meeting with teachers and students.
The duo will also meet mentors of a program which aims to stop young people from getting involved in crime and violence.
"I think she's going to be a really good thing for the royal family"
Harry has been involved with the Full Effect project since 2013 — along with his brother, Prince William, and his wife, the Duchess of Cambridge. Harry and Markle were due to meet children who have benefited from its work.
Royal officials said both issues are close to Harry's heart and that he was looking forward to introducing Markle to a community that is very special to him. Harry's mother, Princess Diana, championed the cause of AIDS victims, helping to destigmatize the disease.
Sian Roberts, who was among the hundreds who gathered to see the couple, managed to briefly speak to Markle.
She described the Los Angeles native as "very friendly."
"She seems like such a lovely, lovely person," Roberts told NBC News. "I think she's going to be a really good thing for the royal family. I think she's going to fit right in."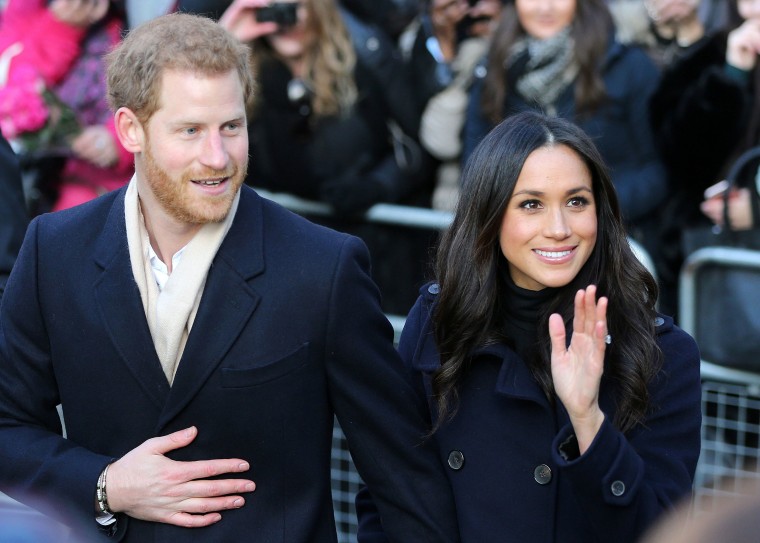 Emily Clues, 16, said she was excited to see the new royal couple.
"I just love the royal family, and I have always loved them," she said.
Cori Burns said she had chatted to Markle about the weather in England compared to California.
"She said, 'It's warmer over there,' I said, 'I know,'" Burns said.
In a televised interview this week, Prince Harry explained that he had proposed to the American actress in November during a cozy night at his cottage on the grounds of London's Kensington Palace.
The couple are due to get married at St. George's Chapel, which dates to the 15th century, at one of Queen Elizabeth II's castles in May. A date for the wedding has yet to be announced.
Royal officials confirmed that Markle will be baptized and confirmed in the Church of England beforehand
They added that she also intends to become a British citizen.
Kelly Cobiella and Mo Abbas reported from Nottingham. Saphora Smith reported from London.