LONDON — Prince Harry has said that tabloid editors have "blood on their hands" as he spoke of the impact that newspaper articles had on his life and on his late mother, Diana, the Princess of Wales.
Harry made the accusation as he became the first high-ranking member of the British royal family to appear as a witness in court in 130 years, taking the stand Tuesday in London's High Court to give evidence against the publishers of Britain's Daily Mirror tabloid newspaper.
The prince and others have accused Mirror Group Newspapers of obtaining information about them illegally, through phone hacking and other unlawful methods. The Mirror Group has said it used documents, public statements and sources to legally report on the prince.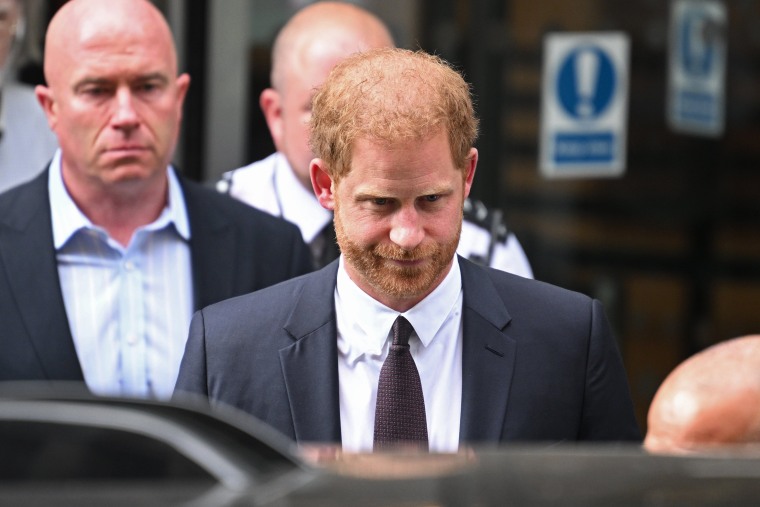 "How much more blood will stain their typing fingers before someone can put a stop to this madness?" Harry said in a written statement.
After being sworn in holding a Bible in one hand and wearing a dark suit and tie, Harry, who appeared soft-spoken at times, said he was referring to "some of the editors and journalists that are responsible for causing a lot of pain, upset and in some cases, speaking personally, death."
The royal arrived at the High Court in London in a black SUV, entering via a modern wing and past dozens of TV cameras and photographers. The courtroom was full, and the spillover room also filled to capacity with members of the public.
The decision to allow himself to be cross-examined is a major step in what has been a long-running campaign against the tabloid press, with the Duke of Sussex holding the paparazzi culpable in the 1997 death of his mother, Princess Diana.
He has also accused the British media of racism in its coverage and hounding of his wife, Meghan, the Duchess of Sussex, which prompted the couple to leave royal life and move to America.
The Duke of Sussex said the impact tabloid reporting has had on his life has been long-lasting.
"As a child at school these articles were incredibly invasive," he said, asserting that reports also had an effect on those around him, including his mother.
In his witness statement, he also described how, particularly as a teenager and in his early 20s, he felt compelled to play "up to a lot of the headlines and stereotypes."
"In my experience as a member of the royal family, each of us gets cast into a specific role by the tabloid press," Harry said. "You start off as a blank canvas while they work out what kind of person you are and what kind of problems and temptations you might have."
"They then start to edge you towards playing the role or roles that suit them best and which sells as many newspapers as possible, especially if you are the 'spare' to the 'heir,'" he said.
"You're then either the 'playboy prince,' the 'failure,' the 'drop out' or, in my case, the 'thicko,' the 'cheat,' the 'underage drinker,' the 'irresponsible drug taker,'" Harry added.
Harry also remarked on the media's unwillingness to change.
"At the moment, our country is judged globally by the state of our press and our government — both of which I believe are at rock bottom," he said. "Democracy fails when your press fails to scrutinize and hold the government accountable, and instead choose to get into bed with them so they can ensure the status quo."
Though Harry stated that he no longer has an official role within the royal family, it is very unusual for British royals usually to make political statements or criticize the government.
The royal failed to show up for the opening day of proceedings Monday. His lawyer, David Sherborne, said in court that the prince left California only on Sunday evening after having celebrated the birthday of his 2-year-old daughter, Lilibet.
The royal's attendance before would therefore be "tricky," he said.
The judge, Timothy Fancourt, said he was "surprised" by Harry's absence, while Green, said it was "absolutely extraordinary" that Harry was a no-show.
Harry's testimony is expected to continue Wednesday, when his attorney is likely to question him once Green concludes.