Prince Harry testified in a British court that years of not knowing about allegations of breaches of privacy committed by Associated Papers created a sense of paranoia and strained personal relationships.
Harry, the Duke of Sussex, is in court this week as one of several high-profile names suing Associated Papers, which owns the Daily Mail, over allegations of phone tapping and other invasions of privacy. The publisher has denied all allegations of wrongdoing in the suit.
In a written filing of his testimony, Harry said he was unaware of the alleged invasions by Associated Papers before 2019, when he sought legal counsel outside the royal family.
Harry and his wife, Meghan, have sued News Group Newspapers Limited and Associated Papers in recent years.
"Through investigating my claim, I have been made aware of extensive evidence of wrongdoing and subsequent cover-ups at Associated which demonstrates that, not only has it been acting outside the law, but it believes it is above it," Harry said in his testimony. "I am determined to hold Associated accountable, for everyone's sake."
Harry alleged his solicitors learned from private investigators working on behalf of Associated Papers that it admitted to practices such as hacking voicemails, tapping landlines and obtaining credit card statements. The targets were Harry, his friends and any potential romantic partner in his life, he said.
The prince's legal team has evidence it began as early as 2001 and continued until at least 2013, according to his testimony.
Associated Papers rebutted the allegations, saying in a statement Tuesday that the claims appear to be based on an "alleged confession" by a private investigator. The publisher said the investigator now denies he was commissioned to gather information illegally on Associated Papers' behalf.
Harry referred to relentless coverage of him and his former girlfriend Chelsy Davy on holidays and how the leaked information created a "terrifying" situation for the former couple.
"Their behaviour and treatment of Chelsy was not normal," Harry wrote. "I was scared that Chelsy was going to run in the opposite direction or be chased and harassed to death."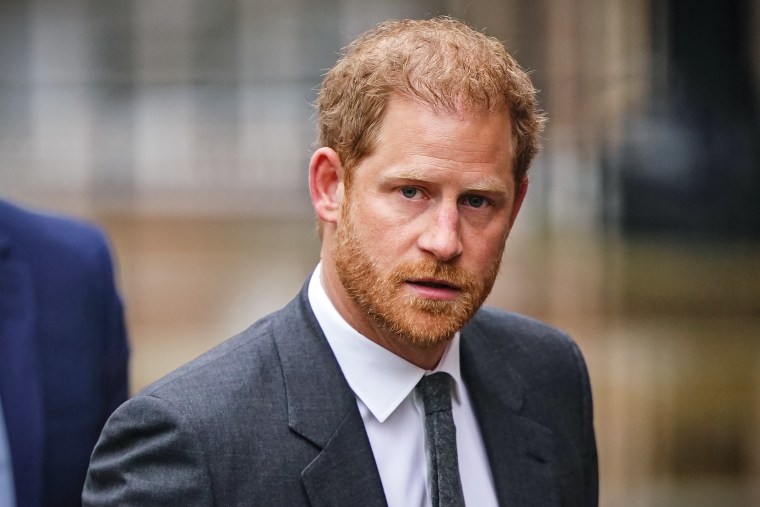 Harry said that he went to "extreme" lengths to protect his and his girlfriend's privacy but that ultimately the continued invasions into his personal life made relationships "impossible."
He also alleges that those who handle the royal family's interests, referred to as the Institution, kept him in the dark about any details of the alleged phone tapping. Harry referred to the News of the World phone-tapping case, saying the family representatives did not want to involve the princes.
"The Institution made it clear that we did not need to know anything about phone hacking and it was made clear to me that the Royal Family did not sit in the witness box because that could open up a can of worms," Harry said.
Buckingham Palace declined to comment Tuesday.
Harry and his wife stepped down from their roles as senior members of the royal family in 2020.
Harry won the right to sue the Associated Papers last year, alleging that a newspaper article about his battle with the British government over his security arrangements was defamatory.
The High Court in London also ruled in his wife's favor against Associated Papers in 2021 after Meghan sued over parts of a private letter that were published in The Mail on Sunday and on MailOnline.
Judge Mark Warby wrote in his ruling that Meghan "had a reasonable expectation that the contents of the letter would remain private" and that the articles had "interfered with that reasonable expectation."