VICTORIA, British Columbia — Little Princess Charlotte, Prince George and their parents, Prince William and Kate, arrived in Canada on Saturday for their first official trip overseas as a family of four.
Charlotte nibbled on her finger while being held by Kate as they were greeted by Canadian Prime Minister Justin Trudeau and his wife. A shy George hid behind his dad while holding his hand and looked for his mother who crouched down to comfort him.
The eight-day trip marks the first overseas jaunt for 1-year-old Charlotte. Her brother, 3-year-old George, has visited Australia and New Zealand on an official tour.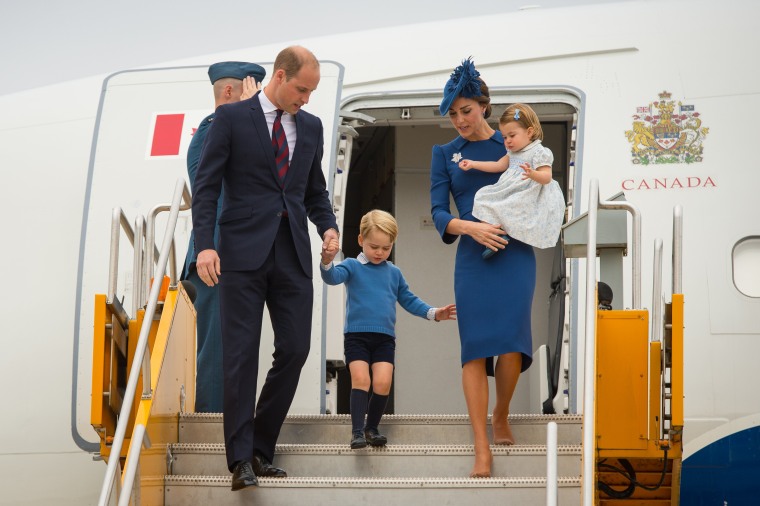 The public will only see the children once at their departure on Oct. 1 and the media will only see the kids a few times during an eight-day visit. The airport welcoming ceremony was closed to the public.
Royal watcher Debbie Burnham expressed disappointment but said she understands considering the distance traveled and all the attention.
"It would have been overwhelming for them," she said. "This allows the parents to relax."
On their first official trip as newlyweds in 2011, the Duke and Duchess of Cambridge won raucous cheers and endeared themselves to Canadian crowds. On this visit the royals will visit British Columbia and the Yukon.
The kids did not attend the official welcoming ceremony where several thousand people greeted the royal couple at British Columbia's ornate government buildings in the provincial capital of Victoria.
"When we were here last time we were married only three months. The warm welcome that you gave us at that important part of our lives meant a lot to us and we've never forgotten it," William told the crowd. "That is why we are so pleased that George and Charlotte can be with us in Canada this time around, beginning their lifetime of friendship with this wonderful country."
The royal couple will move to Vancouver on Sunday for a visit to the city's gritty Downtown Eastside, a dozen square blocks of poverty and addiction. They'll have tea with residents at Sheway, a support program for pregnant women and new mothers dealing with addiction and other challenges. William's mother Diana was on hand when Sheway's precursor opened in Glasgow, Scotland, in 1991.
The royals will then visit an immigrant welcome center where they will meet with a newly arrived refugee family from Syria. More than 30,000 Syrian refugees have arrived in Canada since Trudeau was elected last fall.