A small private jet was flipped over in midair and plunged 10,000 feet after being caught in the wake turbulence from a passing Airbus A380 superjumbo, according to reports.
One person aboard the Bombardier Challenger 604 reportedly suffered serious injuries in the accident, which is being investigated by aviation authorities.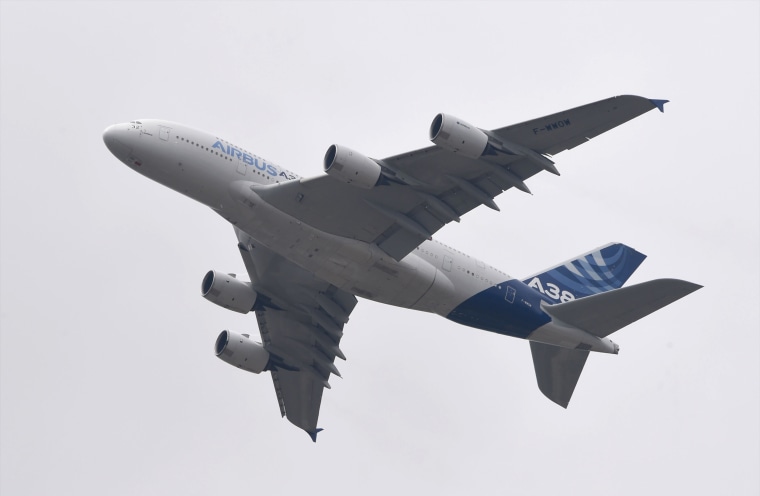 Wake turbulence caused by the engines and wingtips of large planes can linger in the air for several minutes and cannot be seen by pilots or detected on their radar.
The executive jet's German operator hasn't confirmed any details about the January 7 drama, citing an ongoing probe by the country's BFU air accident investigation bureau.
However, trade publication FlightGlobal said the twin-engine plane with registration D-AMSC, rolled three times and was thrown around by such strong G-forces that it was damaged beyond repair. It made an emergency landing in Muscat, Oman.
The private jet was carrying vacationers back from the Maldives to Berlin and cruising over the Arabian Sea when it passed 1,000 feet under an A380, Der Spiegel reported. A short time later, it rolled at least three times, throwing unsecured passengers around the cabin, and descended out of control "like a paper plane in a wind tunnel," the newspaper said.
Several of the passengers were taken to hospital, one of them with serious injuries, according to news site DW.
Germout Freitag, a spokesman for the BFU, confirmed the agency was investigating but said no details were available until an interim report was released. He added that there was no estimate when that would be published.
Steffen Fries, CEO of MHS Aviation, which is the largest executive jet operator in Germany, told NBC News: "Since the investigation from BFU is ongoing, we cannot comment."
FlightGlobal reported that aviation authorities had issued revised guidance to Bombardier Challenger operators and air traffic controllers about the possible effects of wake turbulence from four-engined Airbus A380 planes on other aircraft.