LONDON — A dog died of poisoning just hours after competing at one of the world's most prestigious dog shows, according to one of the animal's owners.
Three-year-old Irish red setter Jagger collapsed after coming second in his category at the Crufts show in Birmingham, England.
One of its co-owners said a vet's preliminary investigation revealed cubes of meat in the animal's stomach had been laced with poison.
"We are led to believe that there's no doubt the dog was maliciously poisoned," the dog's U.K.-based co-owner Dee Milligan-Bott told BBC radio on Monday. "We are all devastated."
Jagger, whose show name was Thendara Satisfaction, collapsed Friday shortly after returning to his other co-owner's home in Belgium.
The Kennel Club, which organizes Crufts, said it was "deeply shocked and saddened," but added "we cannot know the cause of this tragedy" until a toxicology report was released by Belgian authorities later this week.
However, Milligan-Bott wrote on her Facebook page: "The timings from the autopsy make it clear the only place this could have been given to Jagger was while on his bench at Crufts."
NBC News was not able to immediately confirm the involvement of police in Belgium. West Midlands Police, which covers Birmingham, told NBC News it had not been contacted by officials in the European country.
Crufts has been running for 123 years and this year's event will feature around 21,000 dogs, according to the organizers. The poisoning allegation is a rare moment of scandal in a typically genteel event.
Milligan-Bott said in the BBC interview that she did not believe the alleged poisoning was carried out by another competitor. "I can only imagine that it was a random act that somebody premeditated and wanted to cause total distress at the best dog show in the world," she told the broadcaster.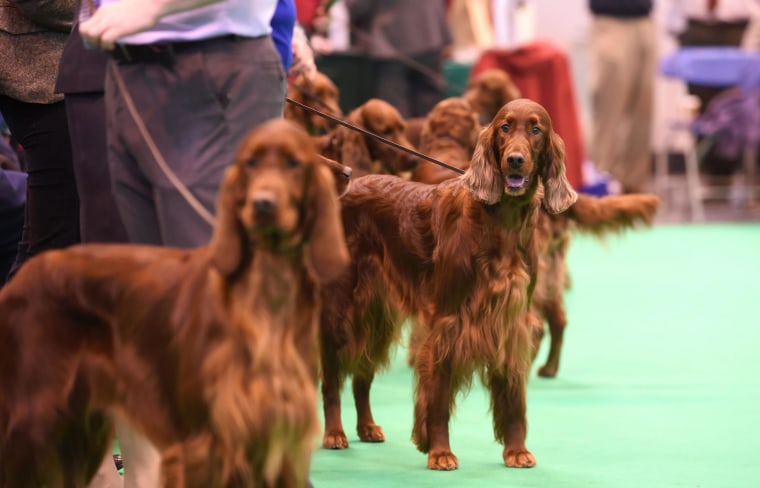 In-Depth
- Alexander Smith