MOSCOW — Allies of Russian President Vladimir Putin comfortably won a parliamentary election, early results showed on Monday, but low turnout suggested a softening of enthusiasm for the ruling elite 18 months before the next presidential election.
The ruling United Russia party won 51 percent in Sunday's election, according to a preliminary central election commission tally after a quarter of the votes had been counted.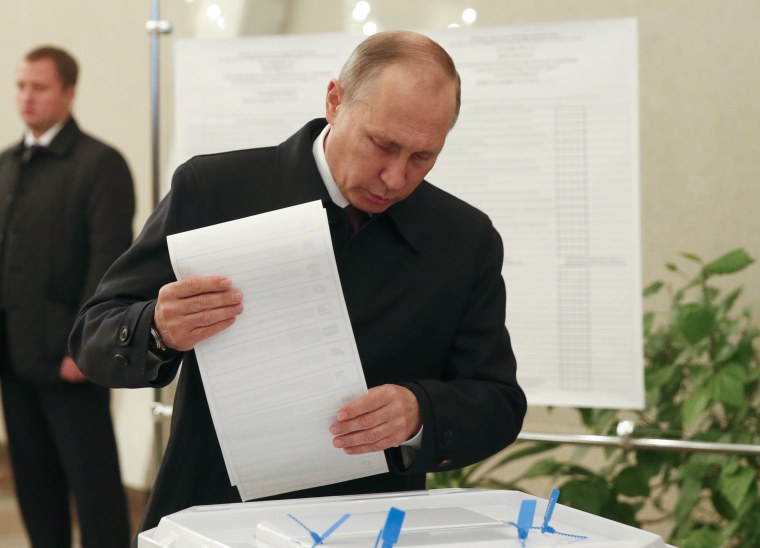 That would allow the party, which was founded by Putin and benefits from his popularity, to extend its dominance in the lower house of parliament, or Duma. An exit poll also had United Russia as the overwhelming winner.
Speaking to United Russia campaign staff a few minutes after polling stations closed on Sunday night, Putin said the win showed voters still trusted the leadership despite an economic slowdown made worse by Western sanctions imposed after the Ukraine conflict.
Putin's aides are likely to use the result as a springboard for his own campaign for re-election in 2018, though he has not yet confirmed that he will seek another term.
"We can say with certainty that the party has achieved a very good result; it's won," Putin said at the United Russia headquarters. He arrived with Dmitry Medvedev, who is prime minister and the party's leader.
Related: Three Ways Putin Gets the Election Result He Wants
Other parties trailed far behind, and those set to come second, third and fourth all tend to vote with United Russia on crunch issues in parliament, and avoid direct criticism of Putin.
There were some reports of voting irregularities. Reuters reporters at one polling station in the Mordovia region of central Russia witnessed several people casting their ballot, then coming back later and voting again. Election chiefs said were was so far no evidence of large-scale cheating.
Election officials said that as of 6 p.m. Moscow time, two hours before polling stations in the capital closed, turnout was 39.4 percent, substantially down on the 60 percent turnout at the last parliamentary election.
Most voters do not see any viable alternative to Putin and his allies, and they fear a return to the chaos and instability of the 1990s, the period immediately after the collapse of the Soviet Union, if his rule ends.