In 2008, Latino voters overwhelmingly supported Barack Obama over John McCain, siding with the Democrat by a 36-point margin, 67% to 31%, according to exit polls. The president won't be able to improve upon this, will he?
Actually, he might. Latino Decisions released a new poll this morning, pointing to an even larger gap between Obama and Republican Mitt Romney, with the president leading 70% to 22%. It's the first time in nearly two years of Latino Decisions polls that Obama has reached this level of support. Here's a chart I put together comparing 2012 to 2008.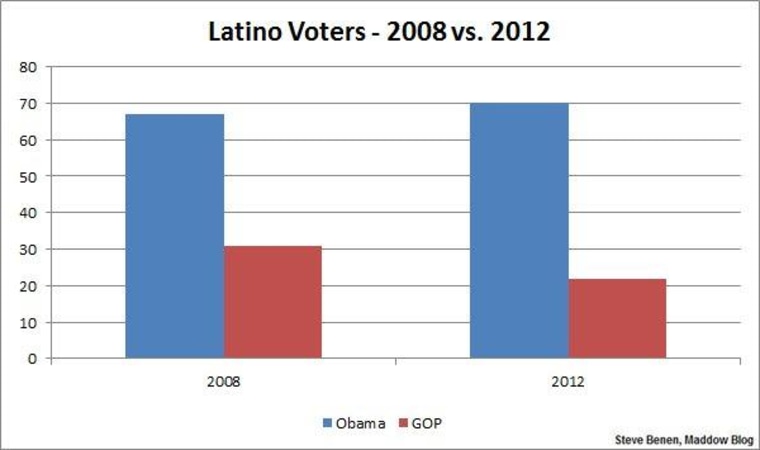 It's also worth noting that the same poll surveyed Latinos in 13 battleground states, and Obama did slightly better, leading 71% to 21%.
It's fair to say even most Republican strategists believe Romney will have a difficult time winning the White House with Latino support this low.
We know, of course, exactly why the GOP candidate is struggling. Part of it is the result of Obama's genuine popularity, driven by recent action on the goals of the DREAM Act, and part of it's caused by Romney deliberately antagonizing Latinos -- endorsing "self-deportation," vowing to veto the DREAM Act, palling around with Pete Wilson and Kris Kobach, etc.
But don't worry, Team Romney has a plan. The candidate's Spanish-speaking son, Craig Romney, is now appearing in his second campaign ad, promising Latinos his father will work on a permanent solution to the immigration system, working with leaders of both parties."
It's almost amusing, in a way. The guy who sees Arizona's SB1070 as a "model" for the nation, and who's touted "self-deportation" as a policy instead of a parody, is going to approve a bipartisan immigration reform plan? But he won't tell anyone what it is? It's hard to imagine anyone buying this.