Dzhokhar Tsarnaev's notoriety and his desire to inspire others in pursuing violent jihad justify restrictions on his confinement as he awaits trial in the Boston Marathon bombing case, federal prosecutors argue in a series of recent court filings.
The documents add new details to the charges already filed against Tsarnaev. 
For example, prosecutors noted previously that he wrote, in pen, on the inside of a boat, parked in a Watertown, Mass., backyard, where he hid after confronting police five days after the bombing. But the latest filings give a fuller account of his message:
"The US government is killing our innocent civilians but most of you already know that. As a M(uslim) I can't stand to see such evil go unpunished, we Muslims are one body, you hurt one you hurt us all," he wrote, according to the documents.
Prosecutors say he also wrote that the Muslim people are "beginning to rise. ... Know you are fighting men who look into the barrel of your gun and see heaven, how can you complete with that? We are promised victory and we will surely get it."
Those statements, the government says, represent "a clarion call to radical Muslims to follow in his wake" and were written "to motivate others to commit acts of the same or similar nature."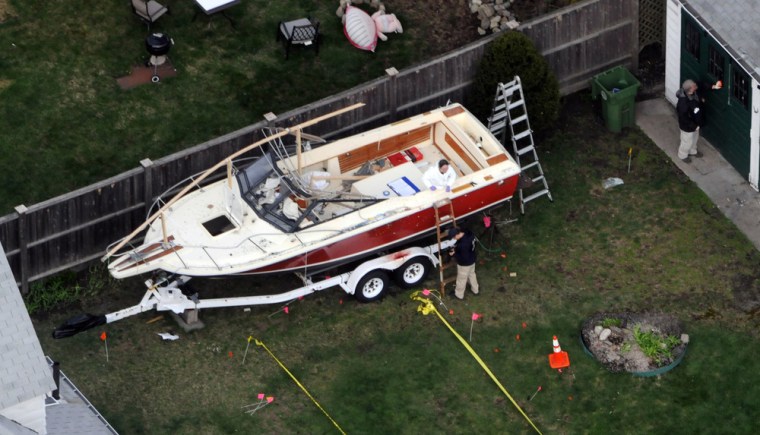 In other court filings, prosecutors disclose that when Tsarnaev was questioned by the FBI in a Boston hospital after his arrest, he "reaffirmed his commitment to jihad and expressed hope that his actions would inspire others to engage in violent jihad."
Tsarnaev's lawyers are asking the federal judge overseeing the case to relax the restrictions, known as special administrative measures, which limit his ability to communicate with others, including fellow prisoners.
"The government has not alleged that Mr. Tsarnaev has done or said anything since his arrest to commit violence, incite violence, or engage in communications that pose a security threat," they say. And they tell the judge that the restrictions make it more difficult for them to meet with him.
Under the restrictions, he can send only one letter a week, limited to three double-sided pages, cannot participate in inmate group prayer services, may not share a cell, and cannot communicate orally or in writing with other inmates.
Among other new allegations in the government's recent filings:
-- In the days immediately following the marathon bombing, Tsarnaev and his brother, Tamerlan, made additional bombs.
-- As Tsarnaev fled from police in Watertown on the Friday following the bombing, "He smashed both of his cell phones before finding a hiding place, knowing they could be used to geo-locate him."
-- Tsarnaev has received nearly 1,000 pieces of unsolicited mail while in custody. 
No date has yet been set for a trial.  Next week, prosecutors will make a recommendation to the Justice Department on whether to seek the death penalty, a decision that will ultimately be made by Attorney General Eric Holder. 
More from NBC News Investigations: