HONG KONG — Peaceful protests descended into violent clashes in Hong Kong on Wednesday after police fired tear gas and water cannons at demonstrators hours after the government postponed a debate on a contentious extradition bill.
The proposed law would allow Hong Kong to extradite suspected criminals to mainland China. The demonstrators argue it would be the latest step in Beijing's effort to increase its grip on this semi-autonomous financial hub.
Police officers clad in riot gear used tear gas, pepper spray and high-pressure hoses and fired rubber bullets to disperse the thousands of protesters who had gathered around the city's government complex.
Some of the demonstrators, mostly young people dressed in black and wearing hard hats and masks, overturned barriers around the buildings, and threw objects at the officers.
In a chaotic scene, some protesters fled while others tried to form a human chain handing water, masks and umbrellas to the front.
The escalation followed a day of otherwise mostly peaceful demonstrations. The atmosphere had been remarkably calm as thousands gathered around the government complex, setting up camps and distributing snacks and surgical masks.
Parts of the city were blockaded and brought to a standstill, with many businesses including international brands such as Apple and Lululemon closing their stores early.
Outside of the area packed with protesters, some streets resembled a ghost town, with roads usually packed with taxis and buses now virtually empty, and the iconic Hong Kong trolleys stopped in their tracks.
The city's tourist board has also announced that this weekend's Hong Kong Dragon Boat Carnival was canceled.
The protesters' presence appeared to secure at least a temporary victory. The government had been due to debate the extradition bill Wednesday, but with the masses gathered outside it announced in the morning that it would postpone that discussion "to a later time to be determined."
The law would allow suspected criminals to be extradited to mainland China, Taiwan and Macau. Supporters say it's necessary to stop Hong Kong from becoming a haven for fugitives, but critics argue it is the latest step in China's attempt to erode Hong Kong's freedoms, and making them subject to Beijing's murky legal system.
A former British colony, Hong Kong was returned to Chinese rule in 1997. This city of 7 million people has since been governed as a semi-autonomous region under the principle of "one country, two systems."
In theory, this should allow Hong Kong to retain the economic and administrative system that has allowed it to thrive as one of the world's leading business centers, and free from Beijing's interference until 2047.
However some see the extradition law, which is endorsed by Beijing and the government it supports in Hong Kong, as an example of Chinese President Xi Jinping's determination to crack down on dissent.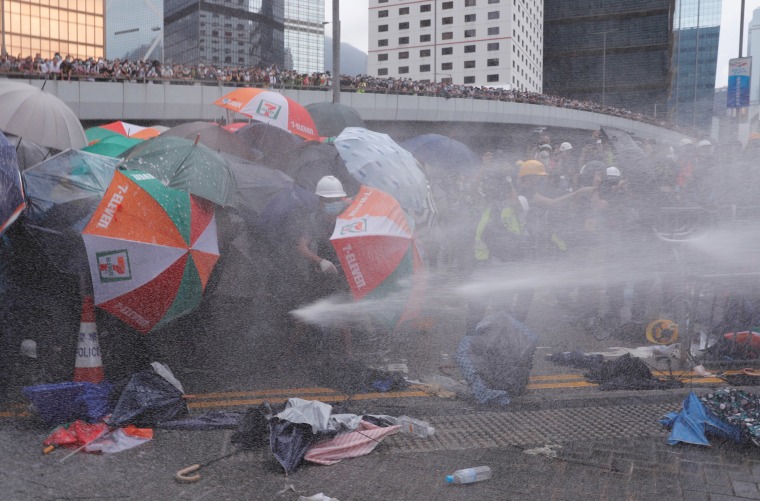 "We don't like China. This is the problem," one protester, Tony Poon, 30, told NBC news. "We cannot let this law be approved. I think this law is not suitable for 'one country, two systems.' This makes just one system."
Many Hong Kongers see mass protest as a vital form of democratic expression, because their leaders are appointed by committee and approved by China, rather than being directly elected by the people.
"China controls everything," said Poon, who was born and raised in the city and works as a theater technician.
Last week, Hong Kong's last British governor, Chris Patten, said the proposed extradition law would "strike a terrible blow ... against the rule of law, against Hong Kong's stability and security, against Hong Kong's position as a great international trading hub."
The rally came three days after as many as 1 million people took to the streets. If this figure estimated by organizers is correct, Sunday's was biggest demonstration in Hong Kong's history.
Wednesday's protesters had mixed reactions to news of the postponement, but remained steadfast to their cause, standing under umbrellas and continuing to block potential traffic.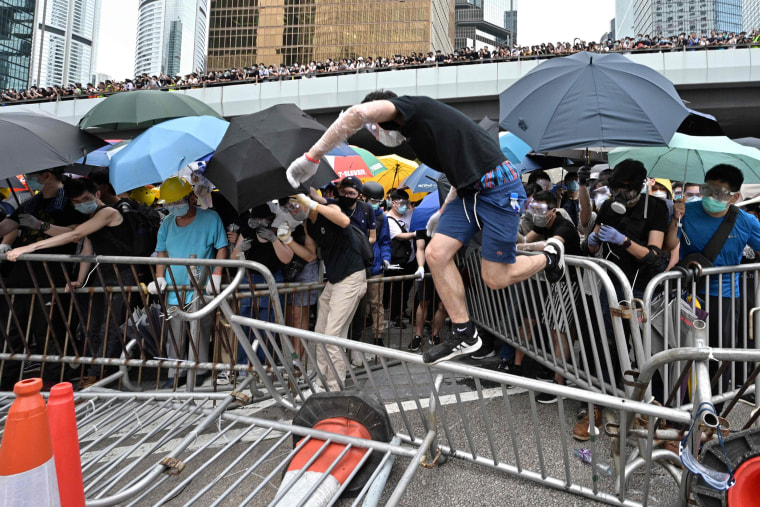 "I would describe it as a small victory," said Ramon Yuen, a member of a local district council representing the Democratic Party.
"There are many possibilities ... but we want the government to withdraw the amendment," Yuen added. "No decision has been made to do that, and we do not see any good gestures that they will listen to Hong Kong people's voices."
Cyrus Lee, 28, who was taking part in the demonstrations, echoed Yuen's sentiment, saying he "can't tell if it is a good sign or not because you don't know what they will do next."
On Wednesday many of the protesters said they were taking part in a general strike. The strike has been endorsed by more than 1,000 small businesses and the 190,000-member Hong Kong Confederation of Trade Unions, which called on "all workers to suspend work and join the assembly."
Michael Vidler, a human rights lawyer based in Hong Kong, said he told his employees that the firm would back them if they chose to join the strike.
Vidler told NBC News that "people are terrified, in my view rightly so," that the legislation would remove the "fire wall" between Hong Kong and China.
The heavy police presence didn't stop Andes Yeung, 40, from showing his displeasure for the bill.
"After this passes, Hong Kong is not the Hong Kong we know," said Yeung, who works as an administrative executive at a retail company.
At one point on Wednesday, dozens of protesters opened colorful umbrellas in what appeared to be a call back to the so-called Umbrella Revolution protests of 2014, when changes in Hong Kong's electoral laws were rammed through that were seen as highly favorable to Beijing.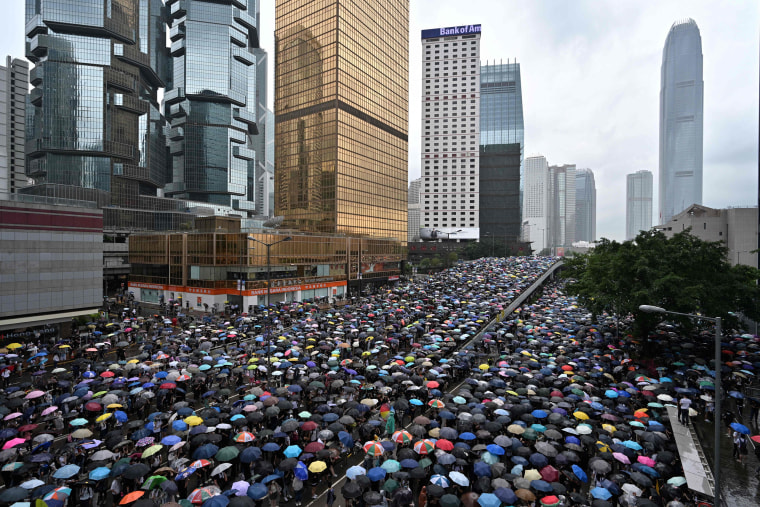 The chief executive of Hong Kong, Carrie Lam, has tried to allay concerns by introducing amendments that she says would add safeguards to the legislation.
Morgan Ortagus, a spokeswoman for the State Department, said Monday that the United States had expressed "grave concern" about the measure, which she said could "undermine Hong Kong's autonomy and negatively impact the territory's longstanding protections of human rights, fundamental freedoms and democratic values."
"We are also concerned that the amendments could damage Hong Kong's business environment and subject our citizens residing in or visiting Hong Kong to China's capricious judicial system," she said.
Justin Solomon reported from Hong Kong, Alex Johnson from Los Angeles, and Alexander Smith from London.