Hundreds of South African demonstrators clashed with police outside of the Soweto campus of the University of Johannesburg on Saturday before a planned appearance by President Obama.
Between 150 to 200 demonstrators held signs that depicted the President as Hitler and demanded that the United States lift trade sanctions against Cuba. Scuffles broke out between the demonstrators and police as they stood across the road from the university.
"Go back, Obama," the demonstrators chanted.
South African critics of the U.S. president have voiced their disapproval of his use of drone strikes, the detention center at Guantanamo Bay, and the U.S. economic blockade against Cuba. Overall, polls show widespread approval in South Africa for the American leader, with 72 percent of South Africans saying they have a favorable image of the U.S. in a June 27 Pew poll. Seventy-four percent of South Africans say they trust Obama to handle world affairs.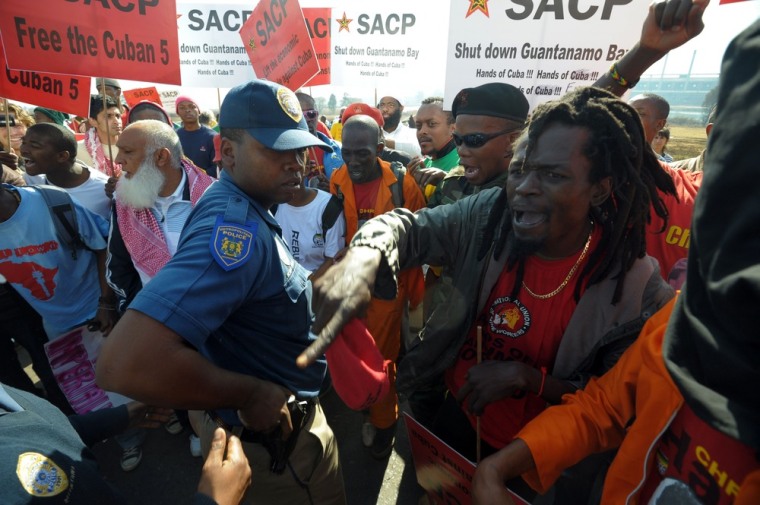 "Our rejection is based on the USA's arrogant, selfish and oppressive foreign policies, treatment of workers and international trade relations that are rooted in war mongering, neo-liberal super-exploitation, colonial racism and the disregard and destruction of the environment, thus making the realization of a just and peaceful world impossible," organizers of the "NO-Bama" protests said in a statement.
The group, which consist of students, members of the Young Communist League, Azanian People's Organization, and the South African Communist Party said that it was important to demonstrate before Saturday's town hall meeting because it was a "poor and undemocratic decision [for the university] to host and confer an honorary doctorate to President Barack Obama."
White House deputy national security adviser Benjamin J. Rhodes said only that South Africa is a "vibrant democracy" ahead of the protests, according to the New York Times.
While the demonstrators received a permit to protest across the street from the school, police cleared the area, forcing the protests up the road to a vacant lot around 2:30pm local time.
Related: