Angry protests over the death of a young woman in the custody of Iran's morality police drew more people to the streets and new support from around the world Tuesday.
A human rights group said five people had been killed by security forces as thousands marched in cities across the country, including the capital, Tehran, following the death last week of Mahsa Amini, a 22-year-old Kurdish woman.
As the unrest spread to new cities and towns, a top United Nations official demanded an independent probe and expressed "alarm" at what she called the "violent response" from authorities.
Security forces cracked down on protests in Iran's Kurdish region in recent days, according to the Hengaw Organization for Human Rights, an independent monitoring group, which said five people had been killed and dozens injured.
Two of the protesters were killed as a result of "direct fire," while at least 250 people were arrested across the country, the group said.
NBC News has not verified the claims.
The region's governor confirmed the deaths of three people during the days of protests, the semi-official Fars news agency reported Tuesday, but called the deaths "suspicious" and suggested they were not caused by clashes with security forces.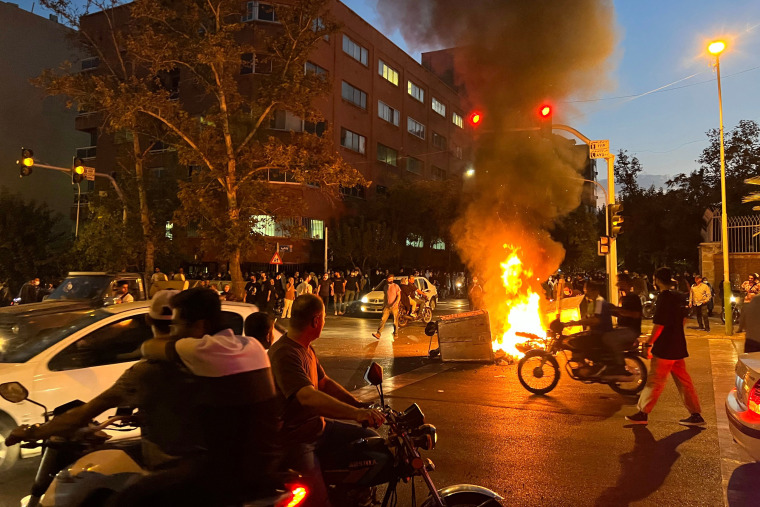 Police said Amini died Friday after falling ill and slipping into a coma days earlier as she waited with other women held by the morality police, who enforce the Islamic republic's strict rules requiring women to cover their hair and wear loose-fitting clothes in public.
Authorities acknowledged making arrests at subsequent protests but denied mistreating Amini and said they were investigating her death.
Rights activists have expressed concerns about Amini's death and the official response to the demonstrations. Her family has denied that she had prior health issues, according to Reuters.
"Mahsa Amini's tragic death and allegations of torture and ill-treatment must be promptly, impartially and effectively investigated by an independent competent authority, that ensures, in particular, that her family has access to justice and truth," said acting U.N. High Commissioner for Human Rights Nada Al-Nashif.
She also called on Iranian authorities to "stop targeting, harassing and detaining women who do not abide by the hijab rules."
Secretary of State Antony Blinken on Monday called on Iranian authorities to allow peaceful demonstrations.
"Mahsa Amini should be alive today. Instead, the United States and the Iranian people mourn her. We call on the Iranian government to end its systemic persecution of women and to allow peaceful protest," he said on Twitter.
Iranian Foreign Minister Hossein Amirabdollahian rejected the criticism, accusing the U.S. of "shedding crocodile tears."
Amini's death and the continuing protests have prompted an outpouring of social media posts protesting Iran's hijab laws, with many women posting online images of themselves without the veil.
Women's rights groups have been campaigning against the country's strict laws in recent months, encouraging women to not wear the mandated veil in public in protest.
Protesters in Tehran appeared to burn hijabs at protests after Amini's death.
Video circulating on social media and verified by NBC News appeared to show a woman climbing onto the hood of a car, with people heard chanting "women, life, freedom" before cheering as she holds up what appears to be a hijab on fire.
Other videos verified by NBC News appear to show protesters at Valiasr Square in Tehran on Monday. One video shows protesters on the street, while the other shows police officers attempting to disperse protesters with what appears to be water.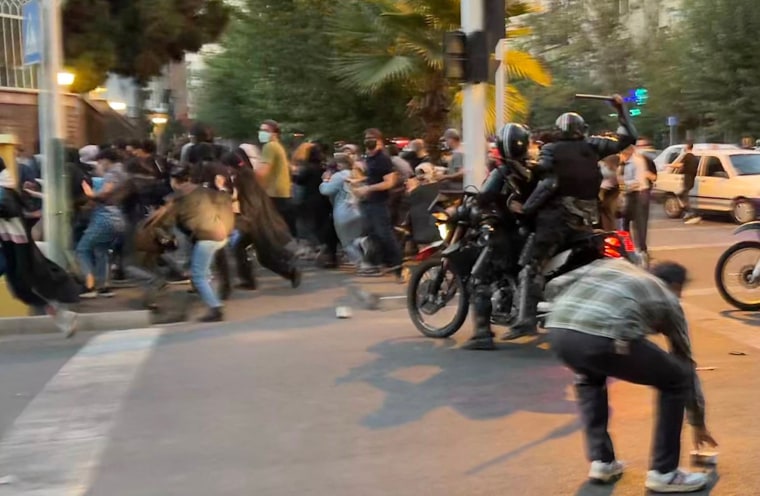 "Cracking down with teargas and lethal force against protesters demanding accountability for a woman's death in police custody reinforces the systematic nature of government rights abuses and impunity," Tara Sepehri Far, senior Iran researcher at Human Rights Watch, said in a statement Tuesday.
"Mahsa Amini should never have been arrested. Iran's abusive 'morality police' should be abolished and compulsory hijab laws and others that violate women's rights should be rescinded immediately," she continued.
The governor of Tehran on Monday accused protesters of being an organized group set on committing "sedition."
"The main core members of tonight's gatherings in Tehran, were fully organized, trained and planned to cause sedition in Tehran," Mohsen Mansouri said on Twitter.
"Burning the flag, pouring diesel on the streets, throwing stones and attacking the police, setting motorcycles on fire and garbage cans, destroying public property … are not the actions of ordinary people," he said.
State media reported that the protests in Tehran involved more than 1,000 people and that the internet was down near the protest site.
The Hamshahri newspaper ran a front-page article about Amini on Tuesday, quoting the judiciary as warning of severe consequences for people who spread rumors. The state-run broadcaster IRIB claimed Kurdish separatist groups were involved in the protests.