MEXICO CITY — It's been 40 days since 43 college students vanished and on Wednesday there was anger in the streets here.
Tens of thousands of demonstrators brought parts of Mexico City to a standstill as protesters demanded more action from federal authorities to find the students who have been missing since late September.
The marchers included students from the rural college the 43 attended in southwestern Mexico — and also regular people from all walks of life who were frustrated with what they called government corruption and cooperation with murderous drug cartels.
Protesters chanted: "They took them away alive, and alive we want them back."
Last year, federal authorities had said that more than 26,000 people had disappeared between 2006-2012 in Mexico, although it was unclear how many of those case were linked to cartel violence.
But these kidnappings have struck a nerve in a country unfortunately accustomed to violence. The missing students were training to be teachers in the southwest Mexican state of Guerrero when they vanished under mysterious circumstances.
The protests come a day after federal authorities arrested Jose Luis Abarca, the fugitive mayor of Guerrero town of Iguala, and his wife. The country's attorney general said the couple ordered the attack on the 43 students in late September that left six other people dead. Federal authorities say the Abarcas ran Iguala in cooperation with the local drug cartel, Guerreros Unidos, which grows opium poppies to be refined for heroin destined for the United States.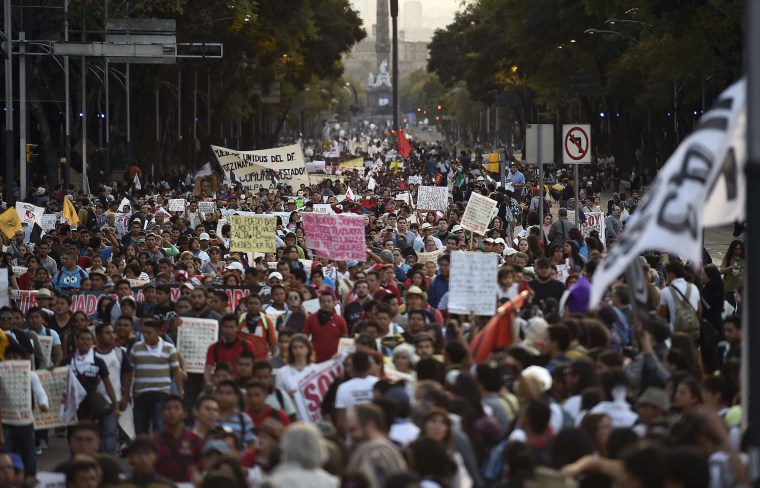 Some families of the students called the arrest the "missing piece" that will help find the students. But another parent told the Associated Press: "News like this just makes you angrier…I wish they would put the same intelligence services and effort into finding the students. The ineptitude is staggering."
The saga began on Sept. 26 when students from a teacher training college in Ayotzinapa traveled to Iguala to protest and raise funds. Local police stopped the students, federal officials said, and six people were later found shot dead while 43 of the students were never seen again.
Several days later, Abarca left his post. Prosecutors later accused him of telling the local police to intercept the students and prevent them from interrupting a speech his wife was giving that day. In early October, mass graves were found near Iguala containing dozens of bodies — but authorities have not identified the remains and don't believe the corpses are of the missing students. On October 19, federal police were deployed to Iguala to replace the local force. Days after that, Mexico's attorney general said an arrest warrant had been issued for Abarca and his wife, and the Guerrero's governor, Angel Aguirre, resigned.
And still, there's been no sign of the missing students.
"It's shocking because there's 43 students missing and they still haven't found them," said Ana Maria Salazar, a former policy advisor for President Clinton who also worked at the Pentagon as a deputy assistant secretary of defense. "And as they're looking for these students they're finding more mass graves and nobody knows who these people are."