LONDON — Perhaps nothing is as quintessential to British culture as a pub.
Beer-guzzling Brits have been deprived of their regular haunts since the country shut down abruptly in March, as the coronavirus pandemic spread.
Dotted on almost every street corner, pubs are part of the fabric of British life — a place to gather, chat and imbibe. But for the last few months, Britons have been forced to drink at home.
That will change Saturday, when pubs in England are officially allowed to reopen — a date already dubbed "Independence Day" by many revelers and referred to in the tabloid press as "Super Saturday."
Pubs in Scotland and Wales are expected to reopen later this month, while they reopened Friday in Northern Ireland.
Bar stools will be dusted off, counters wiped with sanitizer and hearths re-lit, as pubs prepare to open their doors — with many parched pubgoers delighted.
"We want to get back to being human," Ian Snowball, a bar owner, told NBC News.
"There is a genuine excitement," he said. "They want to let their hair down."
Snowball, the proprietor of the Showtime bar in the northern English city of Huddersfield, is wasting no time, reopening early Saturday morning.
His establishment can normally hold around 500 people but due to restrictions, with people needing to stay at least 3ft apart, he expects to squeeze in about 175 customers.
Drinkers at his family-run establishment, opened in 2018, will need to register their names and addresses with reception on entering — to be tracked and traced should the virus later be detected — and have their temperatures taken before going into the main bar.
They will then be led to a numbered table with floor markings creating clear one-way paths. Although toilets will be open, cameras will be used throughout the building to make sure crowds don't build up.
Snowball admits the atmosphere may feel "subdued" compared to life before the virus but says he expects people will be happy to be out again.
"There's going to be a massive demand," he predicts, cheerfully, adding that the local police had already promised to provide extra patrols in the area over the weekend, should the merriment spill over into anti-social behavior.
Police forces across England have warned partygoers to drink sensibly and be mindful of social distancing restrictions still in place. Authorities are keen to avoid a repeat of scenes last month when thousands disregarded safety guidelines and flocked to the English coast during the hot weather.
Britain's National Health Service, still feeling the strain of the coronavirus, is worried that heavy-drinkers may stretch services.
"It would be heartbreaking to see Emergency Departments overwhelmed on the first post-lockdown evening by people who have gotten too drunk or been in a fight," Katherine Henderson, president of the Royal College of Emergency Medicine, warned in a statement.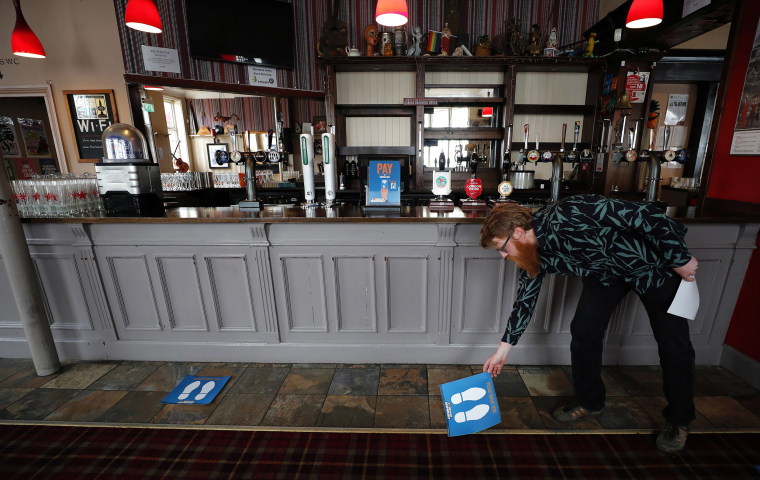 About 80 percent of the 37,500 pubs in England will likely reopen, according to the British Beer and Pub Association, a trade body.
But despite being venerated within British society, pubs have dwindled in recent years, closing up as rents rise, supermarkets heavily discount beers and health-conscious younger generations turn away from alcohol.
But the pandemic has been fatal for many pubs, with owners across the country forced to pour away and discard at least 70 million pints of beer since the lockdown began, the British Beer and Pub Association estimates.
Prime Minister Boris Johnson, who was himself hospitalized with the coronavirus in April, has urged the country not to overdo it this weekend when the lockdown eases.
Meanwhile, as a show of support, Prince William headed to his local pub in Norfolk on Friday, close to the Royal Sandringham Estate, to sip cider and chat to the bar's staff about their experiences during the pandemic.
Hair salons, restaurants and museums will also be reopening Saturday as Britain's hard-hit economy begins to feel its way out of the public health crisis, which has killed almost 44,000 people, according to official figures.
The U.K. has one of the highest death tolls from COVID-19 in the world.
While Leicester, a city in the middle of England, has had its lockdown restrictions reimposed after a local flare-up this week, proof that the deadly virus still lurks.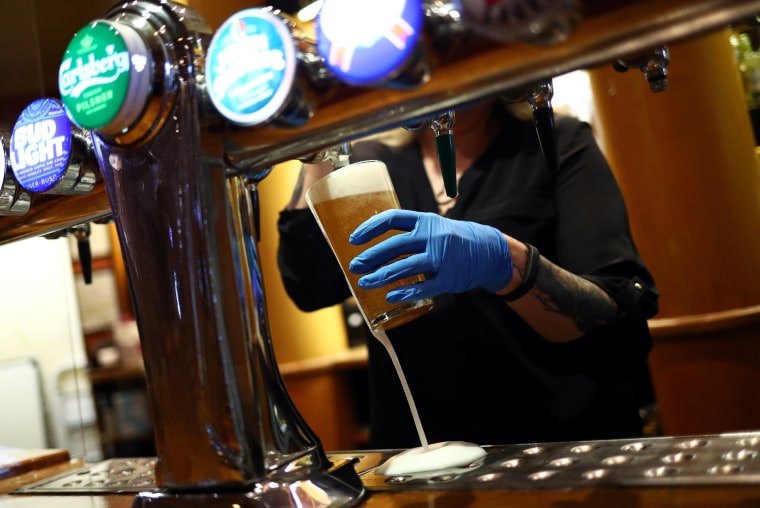 Not all pubs are keen to dip their toes in this weekend.
The Red Lion and Sun, a pub in north London, has decided to keep its doors closed to customers but will serve takeaway drinks.
"No one wants to open pubs more than me, but we must do it safely for you our customers, and our staff," its owner Heath Ball wrote on Instagram. "We won't jump back in on the 4th of July ... people over pound notes."
Lawrence Ambrose, 51, is savoring a pint of Guinness at his local London pub. But said he expects Saturday to be "a melee of madness" with large drunken crowds and busy public transport — and still fears the virus.
"I'm not going to rush out on Saturday, it's going to be bedlam," he told NBC News.