ATLANTA — Drenched and without power for so many days following Hurricane Maria, the residents of Puerto Rico on Sunday were able to see some hope on the wing.
American Airlines restored limited operations to Puerto Rico, with one plane en route to San Juan left Miami International Airport at 6 a.m. on Sunday. Another plane left San Juan at noon on Sunday for Miami at 3:06 p.m.
And an Saturday, the company also resumed services to Providenciales, an island within Turks and Caicos. Once airports reopen, American Airlines is set to resume travel operations to St. Maarten and the U.S. Virgin Islands.
At the Hartsfield-Jackson Atlanta International Airport early Sunday afternoon, there were cheers and tears of relief when a flight attendant announced that Flight 559 had been cleared to fly to Puerto Rico.
For several hours, Delta Airlines personnel had warned there was a possibility the plane would not get clearance to fly down to the island.
Among those waiting to board the plane was a woman in her 50s who had not heard from her sister or mother in the town of Aguadilla since Tuesday evening and was trying to figure out how to get to the northwest coastal town near a dam that is nearly at the breaking point.
Another young woman in her 30s was telling fellow passengers she was going to "snatch up" her parents and bring them back to the United States, and that "they had no choice in the matter."
Others boarding the flight were Puerto Rican residents who had been stranded in the United States when the hurricane hit.
Antonio Sanchez, executive director of the VA Caribbean Healthcare System, which operates the Veterans' Hospital in San Juan, was in Washington, D.C. for meetings. His family was safe and he had been in contact with the hospital; so far the generators were working and the patients were okay. But he was worried about reports of looting and crime and concerned for those who had not heard from their loved ones.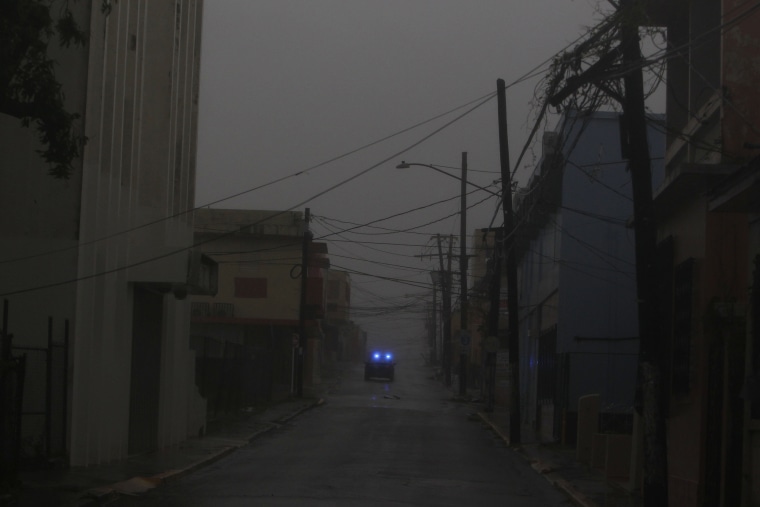 Christie Beckles was also anxious to get to the island, where she lives a majority of the time. Beckles is the founder and president of the Sato Project (sato is Puerto Rican slang for mixed-breed dogs, which are often neglected), which has rescued and found homes for more than 1,800 dogs in last several years.
She had heard that her rescue coordinator in the hard-hit town of Yabucoa was okay, but now her immediate need was to get 50 animals to homes her team had found for them.
Also in response to Maria receding from the area, Gov. Ricardo Rossello mandated that the Army Reserves activate their 4,050 reservists in the island to assist in the recovery, a El Vocero newspaper in Puerto Rico reported.
They have started to restore power and communication services and rebuild any infrastructure that Maria knocked down.
Additionally, the Trump administration has sent federal aid packages to Puerto Rico to assist and speed up all recovery efforts. Puerto Rico's main port has also been opened to receive shipments of food, cots, generators and water. So far, 11 ships have entered, carrying a total of 1.6 million gallons of water, 23,000 cots and dozens of generators, the Associated Press reported.
Although government officials and rescue teams are pushing forth relief efforts, Maria's devastating effects won't be easy to overcome. Maria's heavy rains forced a crack in a Puerto Rican dam. Though the dam has not yet burst, the prospect of it collapsing has forced more than 70,000 inhabitants to flee the area. And over 15,000 Puerto Ricans are in shelters and others are moving toward the mainland in an attempt to escape some of the devastation, according to the Associated Press.
Meanwhile, Maria, now weakening in power, is moving up toward the mid-Atlantic coast, where it may graze the coast of North Carolina.
The National Hurricane Center indicated that Maria — a Category 2 hurricane with 105 mph winds as of Sunday morning — is located 475 miles from Cape Hatteras, North Carolina, and is moving northward at 9 miles per hour.
Frank Giannasca, senior meteorologist at the Weather Channel, said forecasters are "expecting dangerous surf, beach erosion, and rip currents to affect beaches from Florida to the mid-Atlantic States."
At worst, he said, the storm will still have wind speeds of up to 40 miles per hour and bring heavy bands of rain to North Carolina on Tuesday night. The rain will continue through either Wednesday or Thursday night.
Leonor Ayala Polley reported from Atlanta, Georgia, and Sandra Lilley and Yelena Dzhanova reported from New York City