HATFIELD, England — Punk rock fans chanted a 68-year-old politician's name at last week's Slam Dunk music festival — the latest sign of a surge in the polls that may propel him to power in the U.K.
Jeremy Corbyn, who is aiming to be elected as Britain's prime minster on Thursday, has been enlisting young followers by tapping into sub-cultures that have generally been previously overlooked by politicians.
A recent sit-down with grime artist JME garnered huge attention with #Grime4Corbyn trending on social media. Grime is a genre derived from hip hop, garage and electronic music.
Kerrang! — which describes itself at the the "world's best-selling weekly rock magazine" — arranged for two members of alternative rock bands that regularly grace its pages to interview Corbyn, who leads the opposition Labour Party.
It would be hard to imagine the likes of even President Barack Obama discussing his party policies with the lead singer of a punk band named Creeper, but Corbyn did just that.
Kerrang! writer Emily Carter, who also quizzed Corbyn for the feature, said that his message resonated with the magazine's readers, who are primarily aged under 25.
She described the politician as the country's "greatest hope for a bright, thriving creative culture."
Corbyn's Labour Party has promised to cut university tuition fees, give those aged 16 and 17 the right to vote and guarantee that interns will be paid minimum wage after 4 weeks. His manifesto also vows to tackle Britain's housing crisis — as high prices currently prevent many young people from getting on the property ladder.
Jamie Osman, a 28-year-old who works in the music industry, said that Corbyn is making inroads with youths "who feel lost, who feel they have no control" with his "seemingly meaningful and sincere" message.
Cobryn has also appeared on the cover of NME magazine and in the accompanying interview he chose John Lennon's anti-war anthem "Imagine" as his favorite song, citing it as "wonderful poetry."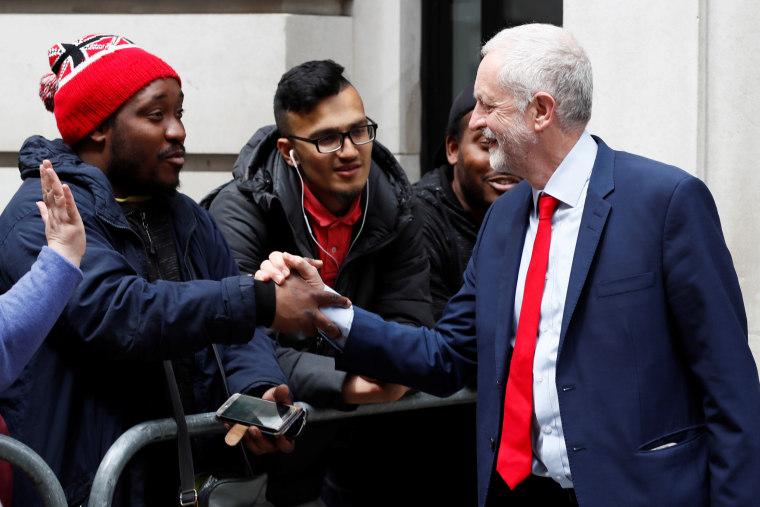 Prime Minister Theresa May, who polls suggest is running almost neck-and-neck with Corbyn, has also been seeking to engage with young voters.
The 60-year-old is backed by the so-called "Maylennials" — who have helped her become a social-media sensation.
Laura Dunn is behind the Theresa May Style Instagram account, which champions the Conservative prime minister and her power-dressing.
"I think Theresa May is a strong leader," she told NBC News. "Her position on and commitment to social justice, women's rights and meritocracy are three positions which resonate strongly."
She doesn't mind the term "Maylennial."
Dunn said: "It's great to see many younger women fascinated by Theresa May. It's an indication of how strong and inspiring a leader she is, and how she is encouraging younger individuals to find out more about the political process and policy."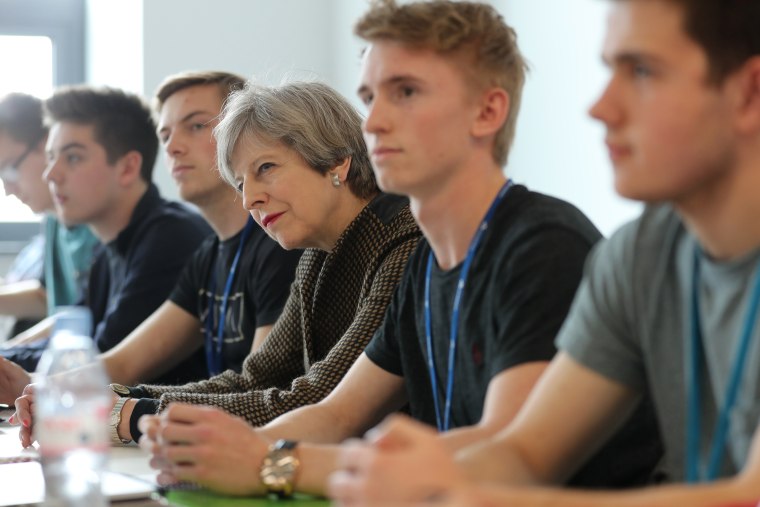 British Vogue recently put May on its cover and has also analyzed Corbyn's fashion sense.
"Who is Jeremy Corbyn's stylist?" it asked. "He must have someone advising him on his wardrobe. For while the shifty suits remain at least one inch too large for his wiry frame, Corbyn's certainly turned a corner in the long old road to chic."
Citing a Twitter user, Vogue pointed out that the "Corbyn look" had been changed "from a freight train-jumping hobo into a vaguely credible-looking adult."
Both Corbyn and May's camps have paid serious attention to their online presence.
The prime minister joined Instagram late in the campaign, but has posted regular updates from the trail and has around 11,400 followers.
Corbyn has almost five times as many. His page is littered with celebrity endorsements, throwback photographs from his own youth and and images showcasing his meetings with bloggers and YouTubers.
Corbyn's meeting with JME, the grime artist, was filmed for the Labour leader's Snapchat account.
Andy White, a 26-year-old former videographer who is now director of his own property company, plans to vote Conservative.
"Me and my friends talk about politics a lot," he said. "I think that's all to do with social media ... Nowadays people are putting so much on Facebook, I've never seen anything like it. I can't go more than 5 minutes without seeing something somewhere."