MOSCOW -- Russia's leading opposition figure Alexei Navalny was jailed for five years on Thursday after being found guilty of embezzlement following a trial he claimed was politically motivated.
The 37-year-old lawyer turned anti-corruption blogger was found guilty of stealing about $480,000 from state-owned timber company Kirovles.
At a hearing in the industrial city of Kirov, Judge Sergei Blinov told Navalny he would spend five years at a penal colony. The case's prosecutor had called for a six-year term and the crime carried a maximum sentence of 10 years. 
"The court, having examined the case, has established that Navalny organized a crime and ... the theft of property on a particularly large scale," the judge said.
Navalny is the most prominent opposition leader to be tried in Russia since Soviet times.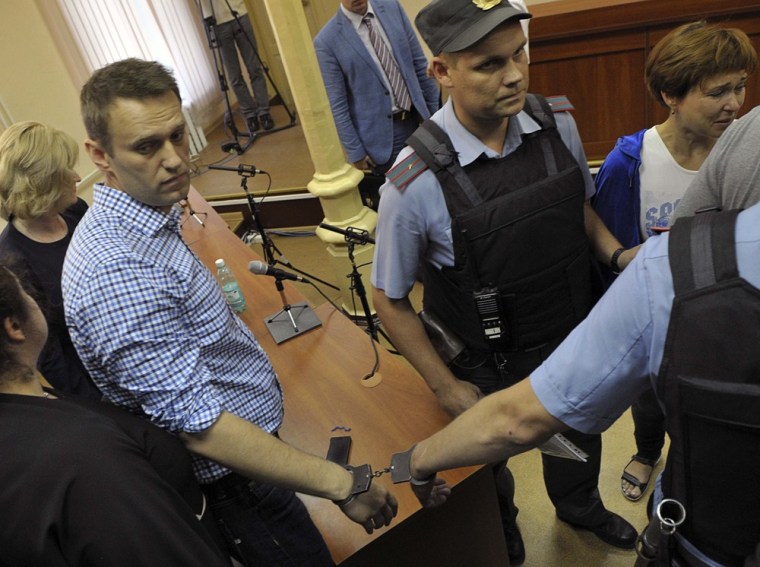 His conviction immediately provoked condemnation.
"The sentence of Navalny looks like its directed towards isolating him from public life and the election process rather than punishment," former finance minister Alexei Kudrin posted on Twitter. 
Navalny rose to prominence in the wake of the last Russian parliamentary and presidential elections in late 2011 and early 2012 and has been a thorn in Putin's side.
Navalny once branded Putin's United Russia as "the party of crooks and thieves" -- a phrase which became popular during the anti-government demonstrations following the elections.
Up to 100,000 demonstrators took to Moscow's streets in cold winter conditions to protest the parliamentary election results amid widespread reports of violations of rules at polling stations.
Navalny took to the stage and called for a Russia without Putin. "Who is the power here? We are the power here!" he bellowed.
His political ambitions have long been public. Navalny has said that he wants to run for the 2018 presidency.  Earlier this week, he received confirmation of his registration request to take part in the upcoming Moscow mayoral elections. They are due to take place in September.
An unsanctioned demonstration was already planned for Thursday night near Moscow's Red Square. Security was tight around the area on Thursday morning.
Navalny's trial has been compared to that of the former oil tycoon Mikhail Khodorkovsky, once one of the richest men in Russia, and an outspoken critic of Putin. He has been in prison since his arrest 2005, and has been found guilty of tax evasion and fraud in two legal cases. Sources say that a third trial is already in the works against the former billionaire.
In a post on his website Thursday, Khodorkovsky called Navalny's guilty verdict "predictable and inevitable."
The Associated Press and Reuters contributed to this report.
Related: