Russian political opposition figure Boris Nemtsov, an outspoken critic of President Vladimir Putin, was shot and killed in Moscow early Saturday, authorities said.
Investigative Committee spokesman Vladimir Markin said Nemtsov, an opposition politician and former deputy prime minister, was gunned down on a bridge near the Kremlin by someone inside a car who fired seven shots. Police said he was struck four times.
The death of Nemtsov, a 55-year-old former deputy prime minister, ignited a fury among opposition figures who assailed the Kremlin for creating an atmosphere of intolerance of any dissent and called the killing an assassination. Putin quickly offered his condolences and called the murder a provocation.
Interior Ministry spokeswoman Yelena Alexeyeva said Nemtsov was on a stroll with a female acquaintance, a Ukrainian citizen, from St. Basil's Cathedral when he was killed. The woman was not hurt.
Nemtsov's death comes just a day before a planned protest against Putin's rule. Putin ordered Russia's top law enforcement chiefs to personally oversee the probe of Nemtsov's killing.
"Putin noted that this cruel murder has all the makings of a contract hit and is extremely provocative," presidential spokesman Dmitry Peskov said in remarks carried by Russian news agencies.
Nemtsov was a sharp critic of Putin, assailing the government's inefficiency, rampant corruption and the Kremlin's policy on Ukraine, which has strained Russia-West ties to a degree unseen since Cold War times.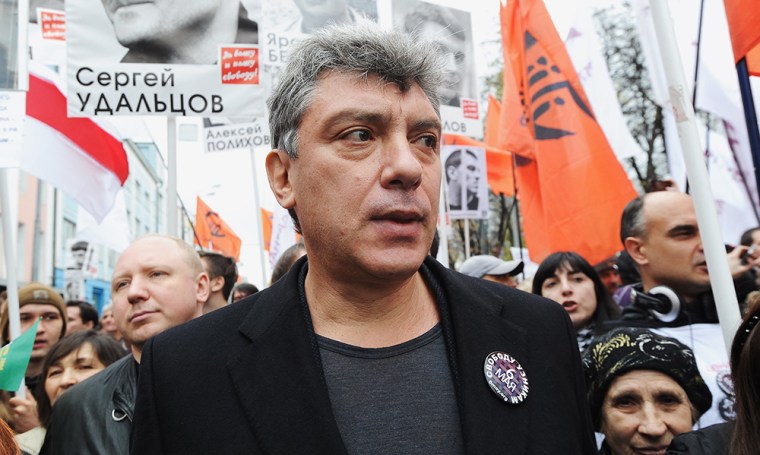 U.S. Senator John McCain (R-AZ), said he had long feared for Nemtsov's safety. McCain said at their last meeting, he had begged the man he considered a "friend" to be careful. "Boris told me that he would never give up the fight for freedom, human rights, and rule of law for his fellow Russians, even if it cost him his life. I am heartbroken that it has come to that," he said. "There must be a full investigation of Boris's murder, and those responsible must be held accountable. The world will be watching."
Nemtsov was working on a report presenting evidence Russia had direct involvement with the separatist rebellion in eastern Ukraine, something Moscow denies, The Associated Press reported.
President Barack Obama said the United States condemned the killing, and called on the Russian government to conduct a "prompt, impartial, and transparent investigation" into the murder. He said the Russian people have lost "one of the most dedicated and eloquent defenders of their rights."
Secretary of State John Kerry said Nemtsov was committed to a "more democratic, prosperous, open Russia, and to strong relationships between Russia and its neighbors and partners, including the United States."
Nemtsov was a veteran member of the liberal opposition, and was briefly named as Boris Yelstin's possible successor in the late 1990s.
"All the liberals were like 'this is the guy,'" said Mark Schrad, an assistant professor of political science at Villanova University and author of "Vodka Politics: Alcohol, Autocracy, and the Secret History of the Russian State."
But as Nemtsov got involved in the more liberal political parties that weren't part of the Kremlin group, and Putin came into the picture, he became less of a political up-and-comer, and more vocal about "how pervasive corruption is in Russia," Schrad said.
Nemtsov co-led mass protests in Moscow in 2011 through 2013, and was arrested a number of times.
"Boris told me that he would never give up the fight for freedom, human rights, and rule of law for his fellow Russians, even if it cost him his life."
Obama said in a statement that, "The United States condemns the brutal murder of Boris Nemtsov, and we call upon the Russian government to conduct a prompt, impartial, and transparent investigation into the circumstances of his murder and ensure that those responsible for this vicious killing are brought to justice."
"Nemtsov was a tireless advocate for his country, seeking for his fellow Russian citizens the rights to which all people are entitled," Obama said. "I admired Nemtsov's courageous dedication to the struggle against corruption in Russia."
U.S. Rep. Ed Royce, a Republican from California and chairman of the House Foreign Affairs Committee, said that "lawlessness now pervades Putin's Russia."
"Regardless of who killed Boris Nemtsov, this shocking murder is the latest assault on those who dare to oppose the Putin regime," Royce said in a statement. "The United States must strongly support all those brave individuals who refuse to be silenced by fear and who knowingly risk their lives to bring freedom to Russia."
Chess champion and fellow opposition figure Garry Kasparov said he was "devastated" by the killing. "Boris's quality no longer fit Putin's Russia. He always believed Russia could change from inside without violence; after 2012 I disagreed," Kasparov said on Twitter.
"When we argued, Boris would tell me I was too hasty, that in Russia you had to live a long time to see change," Kasparov said. "Now he'll never see it. RIP."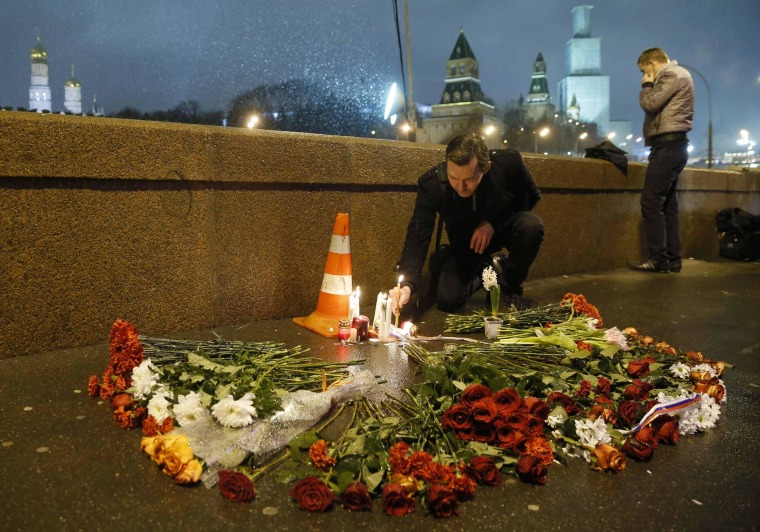 SOCIAL
Material from The Associated Press was used in this report.