MOSCOW — President Vladimir Putin has denied Russia was behind recent hacking attacks in the U.S., calling the "hysteria" around the incidents an attempt to divert attention from the leaks themselves.
"Everyone's talking about who's done it. Does it really matter that much? What matters is what's inside this information," Putin said at an economic forum in Moscow Wednesday.
"There's nothing there benefiting Russia," he told the Russia Calling conference. "The hysteria is simply to distract the American people from the contents of what the hackers have posted."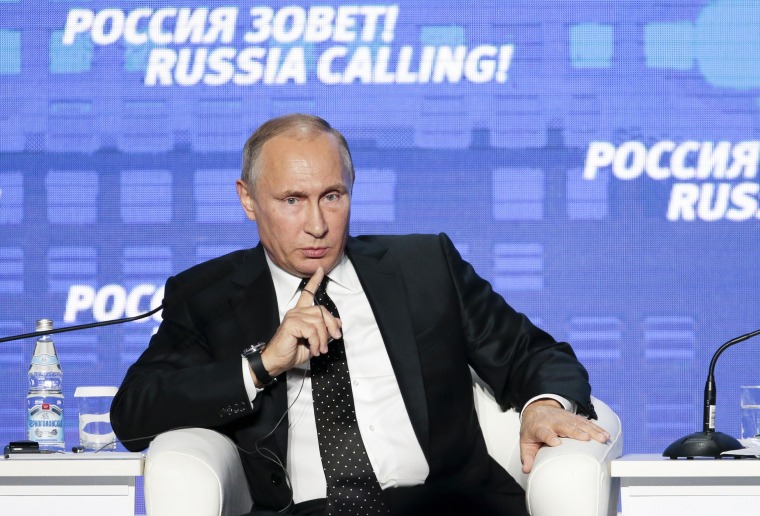 On Friday, the U.S. for the first time squarely blamed Putin's government for a wave of hacking attacks and email leaks, saying the goal was "to interfere with the U.S. election process."
The statement put out by the Department of Homeland Security and the Office of the Director of National Intelligence marked the first explicit public accusation from Washington.
The U.S. linked the Kremlin to disclosures by DCLeaks.com, WikiLeaks and Guccifer 2.0, which have leaked emails from the Democratic National Committee and former Secretary of State Colin Powell, among others.
It also confirmed that recent scanning and probing of state election systems originated on servers operated by a Russian company, though the intelligence community is "not now in a position" to attribute that activity to the Russian government.
The Kremlin and Putin himself have denied the allegations in the past.
He also said there was "basically no dialogue" between the U.S. and Russia, adding that the Obama administration "decides what it wants and insists on getting it."