MOSCOW – Vladimir Putin on Sunday accused the United States of sacrificing good relations with Russia in order to distract voters from domestic problems – but said he was hopeful ties could be restored after the presidential election.
The Russian president made a string of combative comments to reporters, but at the same time assured "American friends and partners" that he had "no intention" of influencing the outcome of the race for the White House.
"We don't know for sure how it will be after the elections," Putin said, according to the TASS news agency. "We don't know whether … [Donald] Trump will be implementing his intentions, how far will he go in cooperating with us or whether Mrs. Clinton, if she becomes president, will implement her threats and her harsh rhetoric about Russia. She may correct her position, too. All of it is still unknown to us."
He said the fact that Russia was an issue in the 2016 was caused by the "well-oiled system of distracting the voters from domestic problems" and that Russia was being singled out because Iran was no longer such a threat.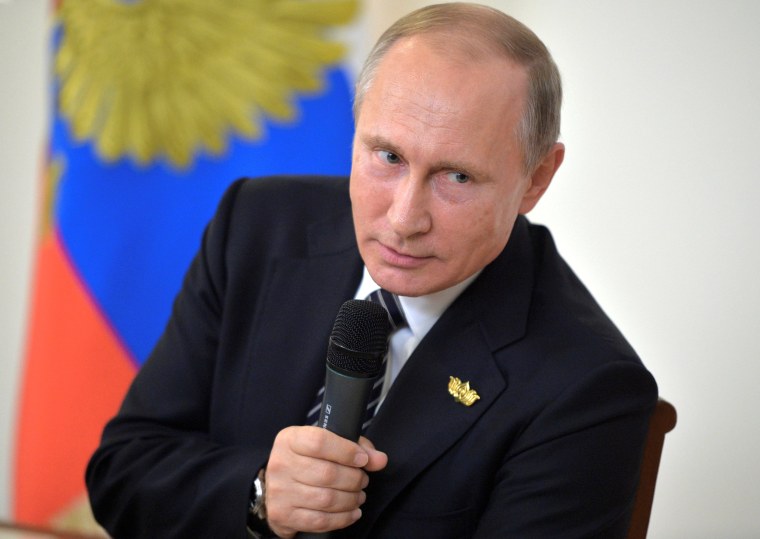 "Iran and the Iranian nuclear problem is not an efficient enemy anymore, Russia is more interesting," Putin said, according to TASS. "Sacrificing Russian-American relations to U.S. domestic affairs is bad because it disrupts international relations in general. [I hope that] when … this complicated period in U.S. internal politics is over, there will be a possibility of restoring U.S.-Russian relations."
Putin was speaking in India after the summits of BRICS nations: Brazil, Russia, China and South Africa.
Asked about the issue of Russian hacking of the U.S., Putin said Washington was doing the same.
"It's not like we don't know that U.S. official bodies are monitoring and wiretapping everyone," Putin said, according to RIA. "This is well known, it's been no secret for a long time. Billions of dollars are spent on this. The NSA, the CIA, other services are working, there is evidence, there are confessions."
He added: "I want to calm down everybody, including our American friends and partners - we have no intention of influencing the election campaign in the U.S."