When Russian President Vladimir Putin and his wife Lyudmila announced Thursday on Russian TV that their nearly 30-year marriage was over, the news seemed to confirm the gossip swirling around for years -- that Putin and the first lady had long been leading separate lives.
"This is true," Putin said. "All my activity is to do with publicity, absolute publicity, and some people like this, and others do not. But there are some people who are absolutely incompatible with this ... Lyudmila Alexandrovna has stood by this post for eight or nine years - so it's a mutual decision."
Lyudmila confirmed Putin's words, adding: "Our marriage is over due to the fact that we no longer see each other."
The newly single Putin now joins a small group of world leaders whose marriages ended during their tenures. 
1. Silvio Berlusconi
Given the former Italian Prime Minister's fondness for bunga-bunga parties and barely legal dancers, it is perhaps no surprise that his second wife, Veronica Lario, announced in 2009 she was divorcing the billionaire media mogul. Once the divorce was finalized in 2012, Berlusconi was ordered to pay Lario $4 million a month in alimony. 
2. Nicolas Sarkozy
The former French president separated from his wife, Cecilia, in 2007, but it only took about a year for the politician to rebound and marry the glamorous model and singer Carla Bruni. Prior to Sarkozy getting elected, Cecilia had famously declared: "I don't see myself as a first lady. It bores me. I'm not politically correct."
3. Hugo Chavez 
The late Venezuelan president was rumored to have a long list of romances, but he was only married -- and subsequently divorced -- twice. He divorced his second wife, Venezuelan radio journalist Marisabel Rodriguez in 2004, claiming she had a bad temper. For her part, Rodriguez blamed Chavez's affairs for the dissolution of their marriage. 
4. Nelson Mandela
The former president of South Africa was married to his wife, Winnie Madikizela-Mandela, for 38 years. The two broke it off in 1996, with then President Mandela accusing his wife of having had an affair with a younger man. Mandela remarried in 1998 at the age of 80.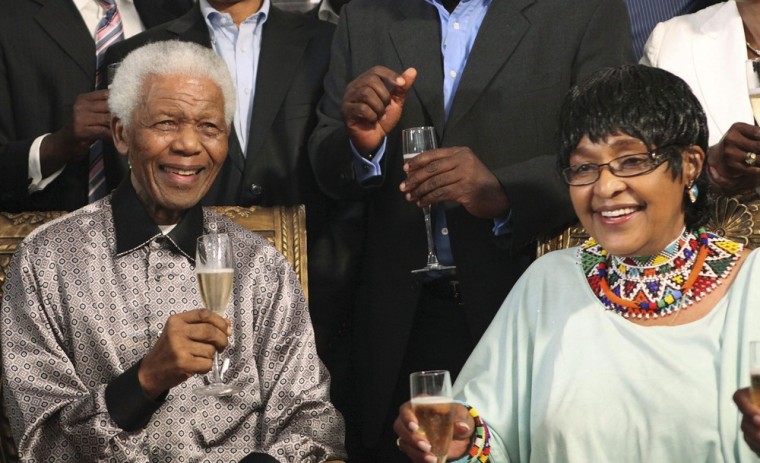 5. Thomas Klestil 
The late Austrian president married Edith in 1967, when they were both 17. Two years into his presidency, Klestil announced he had an affair with a younger woman. Edith left her husband, and the two were finally divorced in 1998. Soon after, Klestil married his paramour. When he passed away while in office in 2004, both women attended his funeral. 
6. Jaime Lusinchi
The former Venezuelan president and his wife Gladys separated in 1987 while he was still in office. The divorce was not final until 1991, after Lusinchi had left power. Setting off a national controversy, Lusinchi divorced his wife so and wed a former private secretary.
7. Habib Bourguiba
The founder and first president of the Republic of Tunisia married his second wife, Wassila Ben Ammar, in 1961. He was still in power in 1986, when he divorced and banished her. Bourguiba said in a statement he was divorcing her for violating the constitution by making political statements without his approval, according to Reuters.