President Joe Biden has warned that the threat that Russian President Vladimir Putin could use tactical nuclear weapons is "real." 
Putin made the comments Monday as Ukraine pressed on with its counteroffensive to reclaim occupied territories, just days after the Kremlin began deploying the weapons to Belarus. 
Biden denounced Putin's move to station tactical nuclear weapons in his close neighbor and ally as "totally irresponsible" Saturday, and he seemed to reiterate his concerns about Putin's threats Monday. 
"When I was out here about two years ago saying I worried about the Colorado River drying up, everybody looked at me like I was crazy," Biden told a group of donors in California on Monday, Reuters reported.
"They looked at me like when I said I worry about Putin using tactical nuclear weapons. It's real," Biden said, according to the news agency. 
Putin said Friday that the first tactical nuclear weapons have been deployed to Belarus and that the rest of the batch will be delivered before the end of the year. 
He first announced the move in March, raising fears of renewed nuclear escalation months after fears he might resort to using the weapons first began to crescendo. It is Moscow's first transfer of such weapons outside the country's borders since the fall of the Soviet Union.
Washington's official position has been consistent — that it has no reason to adjust its own nuclear posture and that there is no indication Russia is preparing to use nuclear weapons.
Since the start of his invasion of Ukraine, Putin has repeatedly threatened to unleash Russia's powerful nuclear arsenal should its sovereignty or territorial integrity be threatened. Kremlin hawks and propagandists regularly threaten to send nuclear missiles into Western capitals, especially as Russia's campaign failed to bring battlefield victories.
But despite having publicly signaled multiple red lines — most notably in the occupied Crimean Peninsula — Moscow has largely played down a wave of attacks on its territory that it has blamed on Kyiv, helping ease fears of a nuclear conflict in recent months. 
Russian Defense Minister Sergei Shoigu warned Tuesday that Ukraine was planning to strike Russia and Crimea with long-range weapons supplied by the West. The use of such weapons outside Ukraine, Shoigu said, would mean "full involvement of the United States and Great Britain" in the conflict and "immediate strikes on decision-making centers on the territory of Ukraine."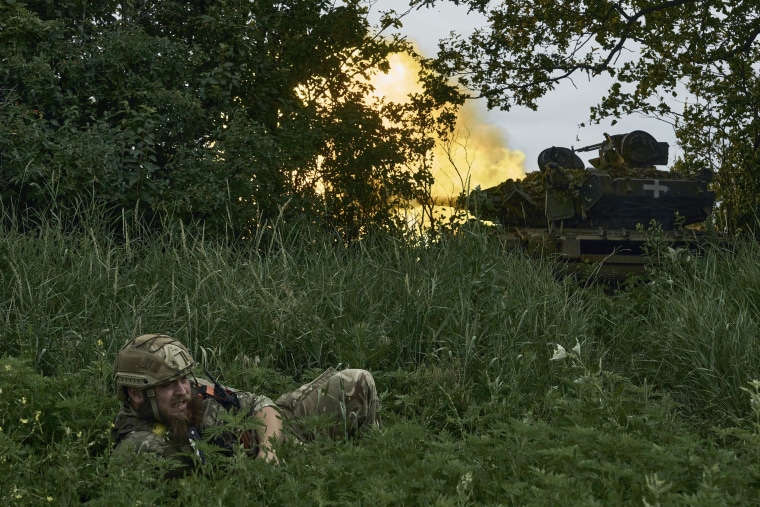 Belarusian leader Alexander Lukashenko, whose regime Putin propped up after pro-democracy protests in 2020, said last week that Moscow had provided his country with nuclear weapons three times more powerful than those used to bomb the Japanese cities of Hiroshima and Nagasaki in 1945.
Belarus is not officially a party to the war in Ukraine, although Moscow used its territory to launch the full-scale invasion last year. It does not possess its own nuclear weapons after it transferred the stock it inherited from the Soviet era to Russia in the 1990s. 
Meanwhile, Ukraine pressed on with the long-awaited counteroffensive it launched this month to reclaim occupied territory.
Kyiv said Monday its forces had liberated eight settlements in an advance on the war's southeastern front lines, and President Volodymyr Zelenskyy said in his daily recorded address that his forces were moving forward in some areas and defending their positions in others. 
"We have no lost positions. Only liberated ones," Zelenskyy said. "They have only losses."
However, his defense minister, Hanna Maliar, warned in a Telegram post late Monday that it was "quite difficult" for Ukrainian troops to advance, "because the enemy threw all its forces to stop the offensive."
"We must prepare for the fact that it will be a tough duel," Maliar said.