President Vladimir Putin has ordered daily "humanitarian pauses" in Syria's besieged eastern Ghouta, according to Russian Defense Minister Sergei Shoigu.
The cease-fire will be arranged for the rebel-held Damascus suburb between 9 a.m. and 2 p.m. every day starting Tuesday, Shoigu said Monday. He added that Russia will help set an evacuation route for civilians in the area.
But civilians caught in the violence mocked Russian President Vladimir Putin's order of a limited, five-hour daily truce.
"It is like legitimizing the strikes on civilians," said activist Firas Abdullah, a resident of Douma, a town in the region where at least 13 members of a family were killed Monday when their home collapsed after an airstrike.
"They will be so kind to grant us a mere five hours when they will not bomb us. Then the rest of the day, they will bomb us as usual. It is like a permission to kill," Abdullah said.
The bombardment of eastern Ghouta over the past week has been one of the heaviest of Syria's seven-year war, killing at least 556 people in eight days, according to a toll compiled by the Syrian Observatory for Human Rights, a U.K.-based war monitor.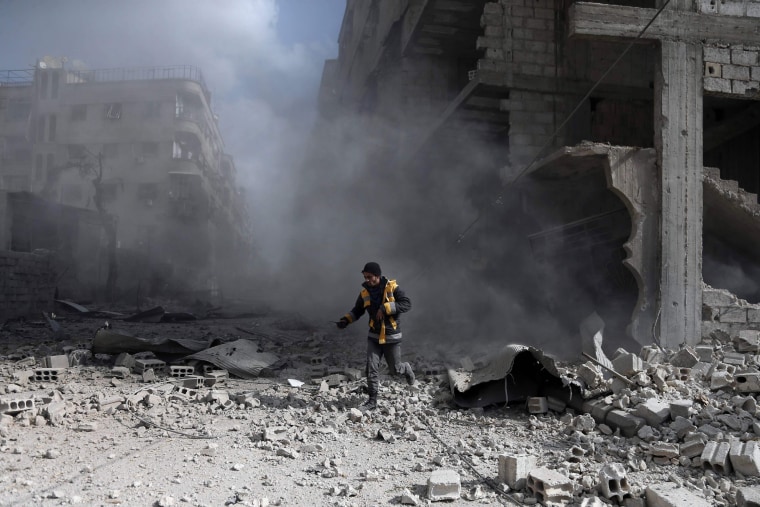 Moscow's announcement comes two days after the U.N. Security Council unanimously approved a resolution demanding a 30-day cease-fire across Syria. The truce excludes fighting with the Islamic State group and al Qaeda-linked fighters.
The political leader of the Army of Islam, the strongest rebel group in eastern Ghouta, called the Russian order "regrettable," saying Moscow sought to circumvent the Security Council's unanimously approved resolution.
"This (Russian) decision nullifies the legitimacy of the United Nations," Mohammed Alloush of the Army of Islam told The Associated Press. "We want a total and lasting cease-fire in accordance with the U.N. resolution and one that opens corridors for humanitarian aid."
Health authorities in eastern Ghouta said Sunday that several people had suffered symptoms consistent with chlorine gas exposure, killing one child. The Syrian government has consistently denied using chemical weapons in the war, which has killed hundreds of thousands of people and forced half of the country's pre-war population of about 23 million from their homes.
Russia accused rebels of preparing to use toxic agents in eastern Ghouta so they could later accuse Damascus of employing chemical weapons.
Meanwhile, U.N. Secretary-General Antonio Guterres appealed on the warring sides to abide by the cease-fire.
"Eastern Ghouta cannot wait," he said. "It is high time to stop this hell on Earth."
Guterres said he welcomed such resolutions but added that they "are only meaningful if they are effectively implemented."
Backed by Russia and Iran, Syrian President Bashar al-Assad has steadily clawed back control of areas where his opponents rose up against his rule in 2011.
Eastern Ghouta is the last major insurgent stronghold near Damascus, the seat of his power.