Russian President Vladimir Putin played the Russian Orthodox Christmas card Thursday and ordered his military to observe a 36-hour cease-fire in Ukraine this weekend, when believers from that faith celebrate the holiday. He also called on Kyiv to do the same.
Ukrainian President Volodymyr Zelenskyy said no way.
Putin is trying "to use Christmas as a cover to at least briefly stop the advance of our guys in Donbas and bring equipment and ammunition and mobilize closer to our positions," Zelenskyy said in a statement to Ukrainians. "Everyone in the world knows how the Kremlin uses lulls in the war to continue the war with new force."
Other Ukrainian leaders also dismissed Putin's move as a propaganda ploy and yet another attempt by Moscow to buy more time for its military to regroup.
"First. Ukraine doesn't attack foreign territory and doesn't kill civilians. As RF does. Ukraine destroys only members of the occupation army on its territory," Ukrainian presidential adviser Mykhailo Podolyak responded on Twitter, using the abbreviation for the Russian Federation. "Second. RF must leave the occupied territories — only then will it have a 'temporary truce.' Keep hypocrisy to yourself."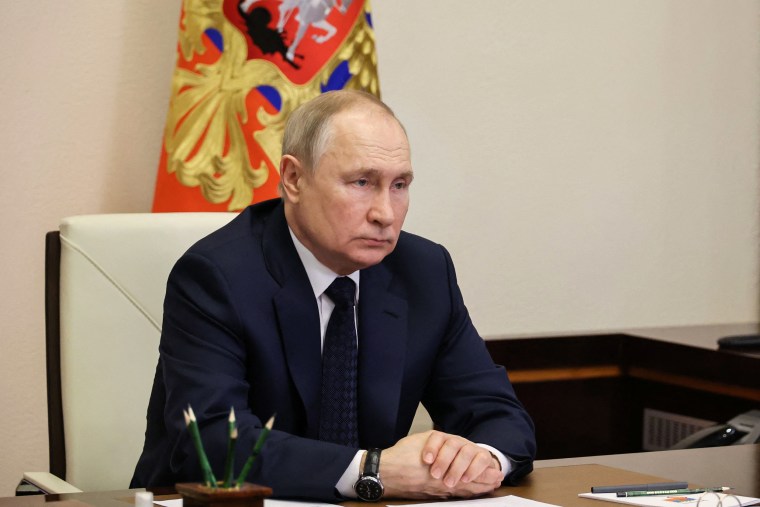 Putin instructed his defense minister to institute the cease-fire "along the entire line of contact between the parties in Ukraine" starting at midday local time (4 a.m. ET) Friday, the Kremlin said in a statement Thursday on Telegram. The proposed Christmas truce would last until midnight local time (4 p.m. ET) Saturday.
But Putin did not appear to make his order conditional on Ukraine's agreeing to follow suit, and it wasn't clear what the unilateral announcement would mean for the status of fighting across the conflict's front lines. 
Ukrainian officials dismissed the idea when it was first raised by Patriarch Kirill, the head of the Russian Orthodox Church, who enjoys a close association with the government and has provided a kind of spiritual cover for the invasion.
Podolyak had dismissed Kirill's call as "a cynical trap and an element of propaganda."
Ukraine's national security and defense council secretary, Oleksiy Danilov, seconded that later.
"How does a pack of petty Kremlin devils relate to a Christian holiday?" Danilov wrote on Twitter. "Who will believe scum that kills children, bombards maternity hospitals, tortures prisoners? A ceasefire? Lies and hypocrisy. We will bite you in the singing silence of the Ukrainian night."
The Russian Orthodox Church, which uses the ancient Julian calendar, celebrates Christmas on Jan. 7 — later than the Gregorian calendar. Some Orthodox Christians in Ukraine recently started celebrating Christmas on Dec. 25 to show their anger at and defiance of Moscow.
"Based on the fact that a large number of citizens professing Orthodoxy live in the areas of hostilities, we call on the Ukrainian side to declare a cease-fire and give them the opportunity to attend services on Christmas Eve, as well as on the Day of the Nativity of Christ," Putin said.
Putin's proposal comes after 10 months of fierce fighting.
His campaign in Ukraine suffered a series of setbacks at the end of last year, with counterattacks by Kyiv's military forcing retreats from large areas Russia's military had seized and Putin claimed to have annexed in the east and the south of the country.
The Kremlin has responded by calling up hundreds of thousands of reservists and intensifying its commitment to the conflict.
With fighting on the ground largely frozen in the thick of winter, Moscow's military has bombarded civilian targets across Ukraine from the air — including a series of missile strikes on New Year's Eve.
Kyiv has warned that Putin's regrouped and reinforced army might be planning a major offensive in the next few months and has urged its Western allies to deliver more powerful weapons.
Meanwhile, President Joe Biden's top diplomat, Secretary of State Antony Blinken, announced Friday that $3.75 billion in new military aid was heading to Ukraine. That package includes Bradley Fighting Vehicles, which are armored combat conveyances that can serve as troop carriers, as NBC News reported on Thursday.
The aid package also includes "artillery systems, armored personnel carriers, surface to air missiles, ammunition, and other items to support Ukraine as it bravely defends its people, its sovereignty, and its territorial integrity," Blinken said in a statement.
Zelenskyy, in a statement released after Blinken's announcement, expressed his delight.
"For the first time, we will receive armored vehicles "Bradley" — this is exactly what is needed," he said.
In addition to fueling support for Kyiv from the U.S. and Europe, Russia's invasion has also stoked rare criticism at home.
The Russian military blamed its soldiers' use of cellphones this week for a Ukrainian missile attack that killed dozens and fueled a new round of domestic criticism about how the war is being fought.
The strike dealt another blow to the Kremlin's public image and renewed criticism of military leaders by nationalist bloggers and pro-war voices within the country.