President Vladimir Putin's assertion Thursday that Russia is testing a range of new nuclear-powered weaponry reveals a Kremlin that has become increasingly emboldened by the Trump administration and skilled at stoking East-West tensions, analysts say.
"It's back to the bad old days of Russia trying to claim its glory through having weapons of mass destruction," said Jeremy Bash, a former chief of staff in the Department of Defense and CIA.
"A speech like Putin's is the nexus of national defense strategy and machismo — it's an effort by Putin to say, 'Not only am I shirtless, but I have nuclear weapons.'"
Bash said Putin's latest campaign to bolster Russia's military might, announced during his annual state of the nation speech, is loaded with Cold War undertones.
"You see an American foreign policy of weakness about Russia," he added. "Putin is exploiting that weakness, and he tries to assert strength."
Related: Putin unveils new Russian nuclear missile, says it renders defenses 'useless'
Bash pointed to a number of developments in recent months that have boosted Russia's confidence on the international stage. Those include propping up Syrian President Bashar Assad and establishing a permanent presence at two military bases in the war-torn country, sowing doubt about NATO's missile defenses in Eastern Europe and Moscow's alleged meddling in the 2016 U.S. election and Brexit.
Bash added it doesn't help that President Donald Trump has repeatedly had to walk back convoluted comments on whether Russia interfered in the last U.S. presidential election, even though the American intelligence community has concluded it did.
"In an era in which Putin has been very forceful and aggressive in the Middle East and Europe, and in an era where an American president refuses to check Russia's aggression ... you're going to see Russia rise — and that could spark a new Cold War," Bash said.
Related: Key players, meetings and investigation details in the Russia probe
In Putin's speech, which included videos of the missile technology, he praised his country's ingenuity in the face of international doubt. He also accused the West of "ignoring us," and warned that Russia was poised to fight back if a nuclear attack occurred against it or any of its allies.
Putin claimed that Russia has developed its own nuclear-powered missile that could reach almost anywhere in the globe, while rendering American defense systems that would intercept it useless. He also listed an intercontinental ballistic missile, underwater nuclear drones and a supersonic weapon among the arsenal Russia is testing.
William Courtney, a former U.S. ambassador to Kazakhstan and Georgia, who has also served in the Moscow embassy, said he's not convinced by Putin's boasting of Russia's weaponry.
"A nuclear-powered cruise missile would be expensive and vulnerable to current and future air defense technologies," Courtney, now a fellow at the RAND Corporation, said in an email.
He added that Putin's rhetoric is meant to play to voters ahead of the Russian presidential election this month, when he is all but expected to win a fourth term.
"Putin's fire-breathing comments on nuclear forces were reminiscent of Soviet Premier Nikita Khrushchev's a half-century ago," Courtney said. "Because Putin's speech was postponed until just over two weeks prior to the March 18 presidential election, he likely had as one goal to appeal to his nationalist political base, and to some extent to a broader segment of Russians who like to see Russia playing a great power role or confronting the West."
Related: Trump vows to 'de-nuke' world but modernize U.S. arsenal first
Putin's remarks also come a month after the Pentagon said it was working on two new types of sea-based nuclear weapons in response to Russia and China — a clear shift from the Obama administration's unrealized goal of nuclear disarmament.
Pentagon spokeswoman Dana White said that officials are "not surprised by these statements, and the American people should rest assured that we are fully prepared."
Sergey Radchenko, a global fellow at the Woodrow Wilson Center for International Scholars in Washington, said Russia has had a history of thumbing its nose at the Western world.
"In his time, Nikita Khrushchev infamously promised to churn out missiles like sausages and boasted of his ability to bomb the West into the stone age. I am concerned about this rhetorical escalation," Radchenko said.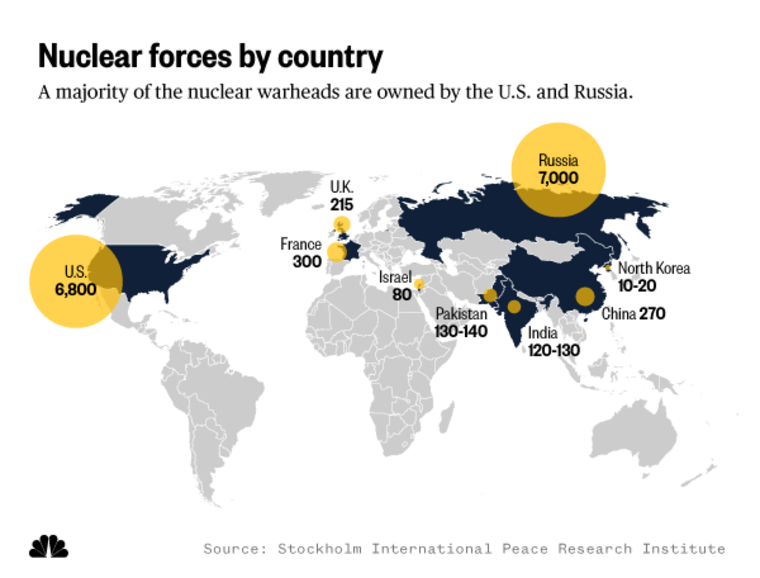 But there was no immediate sign Thursday that the Trump administration, which remains embroiled by a special counsel's investigation into possible collusion between the Trump campaign and Russia, was moving toward responding to Putin.
"The worst thing would be to overreact and imagine that there is already a doomsday gap with Russia," Radchenko said. "I fear this is exactly what will happen, which only serves to remind that Putin is doing himself no favors by so openly swinging the nuclear stick."
Virginia Sen. Mark Warner, the top Democrat on the Senate Intelligence Committee, said during a speech in Washington on Thursday that standing up to Russia will require more forceful action that isn't "handicapped in our response by the lack of presidential leadership."
"We are now engaged in a fight in the shadows," he said, "and I don't believe that's a war we're currently winning."