President Vladimir Putin said he plans to strengthen Russia's nuclear forces, as his invasion of Ukraine reaches the one-year mark with concerns growing about the broader global fallout.
In an address Thursday to mark Defender of the Fatherland Day, a patriotic holiday that celebrates the role of the country's armed forces, Putin said he would "focus on strengthening the nuclear triad," meaning nuclear weapons that can be fired from land, air and sea.
Putin also said that, for the first time, Sarmat intercontinental ballistic missiles — which are able to carry multiple nuclear warheads — would be deployed this year.
"We will continue mass production of air-based hypersonic Kinzhal systems and will start mass supplies of sea-based Zircon hypersonic missiles," he said, in comments that were released in English by the Kremlin late Wednesday.
On Tuesday the Russian leader said he would suspend Russia's involvement in the New START treaty, the last such arms agreement between Russia and the United States. President Joe Biden called the decision a "big mistake."
The treaty compels each nation to tell the other when it is testing an intercontinental ballistic, which happened when Russia tested a Sarmat missile in the days leading up to Biden's trip to eastern Europe this week, according to Biden administration sources — a test that is thought to have failed.
Biden assailed Putin in a speech in Warsaw on Tuesday after his surprise visit to Ukraine, as he rallied Kyiv's Western allies in a trip marking a year since the war began.
Putin's comments come in a week of nationalist stagecraft to mark the anniversary of Russia's full-scale invasion of its neighbor, culminating in a rally in Moscow's Luzhniki stadium on Wednesday at which Putin led thousands of supporters in cheering for the country's soldiers.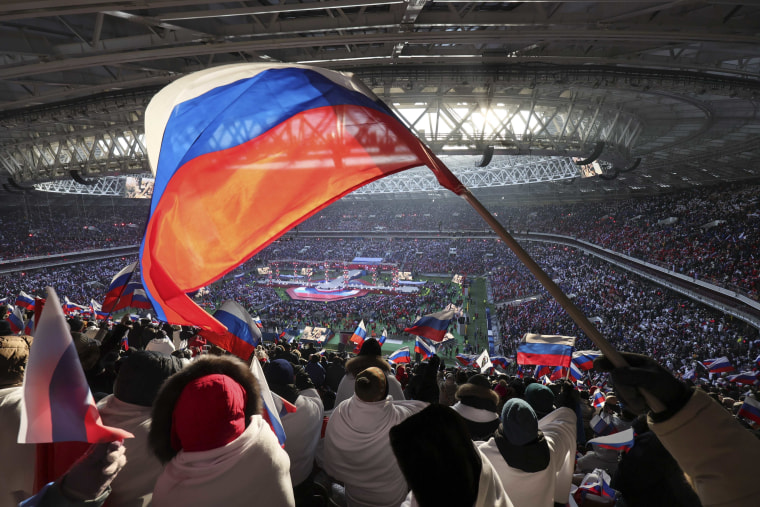 Dmitry Medvedev, the former Russian president who along with President Barack Obama renewed the START deal for another five years in 2019, defended Russia's right to use nukes if necessary.
"If the United States wants to defeat Russia, then we have the right to defend ourselves with any weapons, including nuclear weapons," he said on his Telegram channel Wednesday.
However, Maj. Gen. Yevgeny Ilyin, a senior Russian defense official, told the lower house of the Russian Parliament that the armed forces would continue to adhere to the terms of START, which limits the number of warheads each side can hold.
The war in Ukraine has largely remained a stalemate this winter, but a new Russian offensive is pushing for advances in the eastern Donbas region.
Both sides have struggled to ensure the supply of arms to key areas as the conflict wearily grinds on. Ukraine has relied almost entirely on Western supplies, while Russia is attempting to increase its production capacity.
"[A] modern and efficient army and navy are a guarantee of the country's security and sovereignty, and a guarantee of its stable development and its future," Putin said in the remarks issued by the Kremlin. "That is why, as before, we will give priority attention to strengthening our defense capability."
"Our industry is quickly increasing the production of the entire range of conventional weapons and preparing for mass production of advanced models of equipment for the army and navy, as well as the aerospace forces," Putin added.