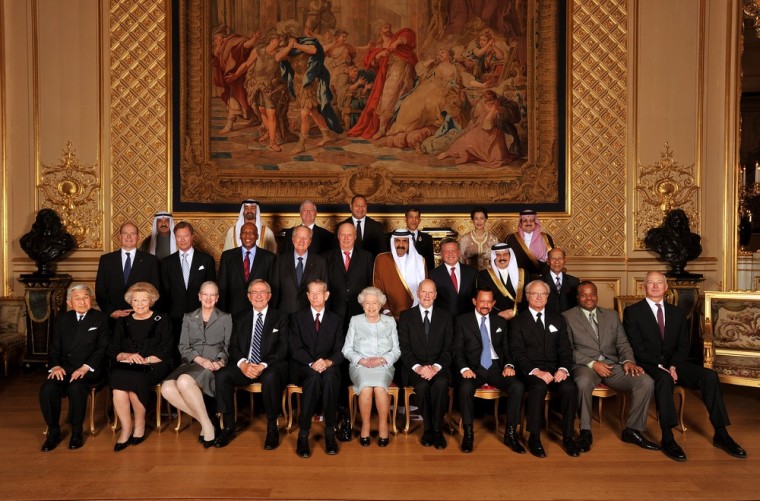 LONDON -- A lunch of monarchs, hosted by Britain's Queen Elizabeth II on Friday as part of her Diamond Jubilee celebrations, has attracted protests from campaigners angry at the attendance of the king of Bahrain and the king of Swaziland.
The king of Bahrain, whose regime is accused of brutally suppressing pro-democracy demonstrations, was among dozens of sovereign monarchs invited to the banquet at Windsor Castle.
On Wednesday, protesters gathered outside the recently-refurbished Savoy hotel -- where Swaziland's King Mswati III is believed to be staying. With more than a dozen wives and an entourage of 30, Africa's last monarch lives in luxury despite the abject poverty of his subjects. Pictures of the protest were posted on a campaign blog.
Meanwhile, demonstrators were expected to stage protests outside Bahrain's embassy in London later on Friday.
The former Foreign Office minister Denis MacShane accused his old department of placing the Queen in an impossible position. The Labour party lawmaker told The Guardian newspaper: "Many in Britain will regret that the foreign secretary, who approves all invitations sent in the queen's name as head of state, has decided to include a representative of the Bahraini regime which has done such terrible things to its own people since the Arab awakening a year ago."
Read more on this story from Britain's ITV News
However, pro-Bahrain monarchy supporter Lubna Sulaipeekh told ITV News that King Hamad of Bahrain's attendance at the Queen's Jubilee lunch is "appropriate" as Britain and Bahrain have "always had good relations".
Among those not attending is Queen Sofía of Spain, whose government turned down the invitation in a diplomatic spat over Gibraltar, the U.K. overseas territory Spain wants returned.
Graham Smith, from British anti-monarchy campaign group, Republic, told the London Evening Standard: "The queen cannot hide behind protocol and precedent — this is a crisis of her own making. The British people strongly support the struggle for democracy in the Middle East and around the world — this is a catastrophic error of judgment."
Responding to criticism, a Foreign Office spokesman said that maintaining a close relationship with Bahrain allowed it to "have a full and frank discussion on a range of issues".
He told ITV News:  "On human rights we support the reforms already under way in Bahrain and we want to help promote that reform. We have consistently encouraged the Bahraini government to take further urgent steps to implement in full the recommendations of the Independent Commission of Inquiry as the his majesty the king has committed to doing. This includes bringing to account those individuals responsible for human rights abuses."
More world news from msnbc.com and NBC News:
Follow us on Twitter: @msnbc_world