QUETTA, Pakistan — A bomb went off on the grounds of a hospital in the southwestern Pakistani city of Quetta on Monday, killing at least 69 people, most of them lawyers.
The suicide attack took place shortly after the body of a prominent lawyer killed in a shooting earlier in the day was brought to the government-run facility, senior police official Zahoor Ahmed Afridi told The Associated Press.
It was unclear if the two events were connected, although a splinter group of the Pakistani Taliban claimed in an email that it had carried out both attacks.
A spokesman for the group, Tehreek-e-Taliban Pakistan Jamaatul Ahrar, said it first killed provincial president of Balochistan Bar Association, Bilal Kasi, and then carried out a suicide attack on lawyers when they gathered to protest his killing.
"We proudly claim responsibility for the killing of lawyers' leader Bilal Kasi and then suicide attack on lawyers gathered to protest his killing. We will release video of these incidents and our attacks will continue in Pakistan," the spokesman, Ehsanullah Ehsan, told NBC News.
The group, believed to be based in Afghanistan's Nangarhar province, has previously taken credit for other deadly terror attacks, including one at a children's park in Lahore, Pakistan in March.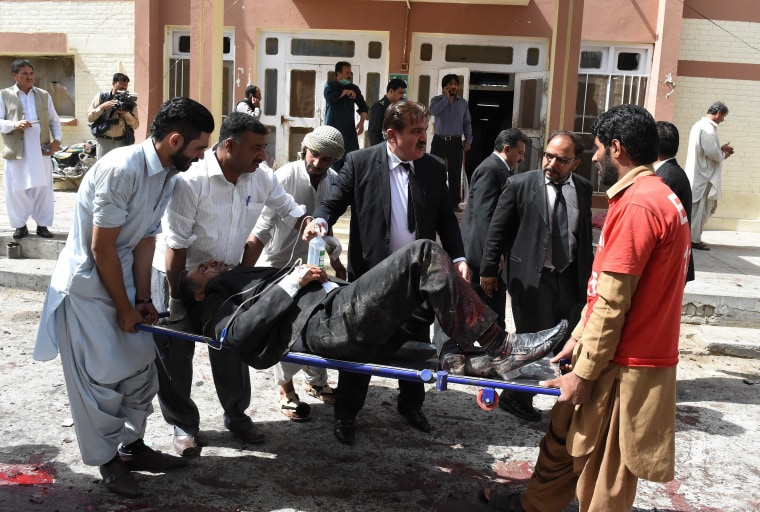 Television footage from the bombing site showed scenes of chaos, with panicked mourners fleeing through debris as smoke filled the corridors of the emergency ward.
Anwar Kakar, the official spokesman for the government of Baluchistan, said it was a suicide bombing.
"This doesn't look like the action of insurgent separatists, rather religious extremists," Kakar told NBC News. "Their only cause is to create fear. Not fear of God. Just fear of living."
More than 50 mourners were entering the emergency ward to accompany Kasi's body when the bomb went off at the building's gates, a journalist at the scene told Reuters.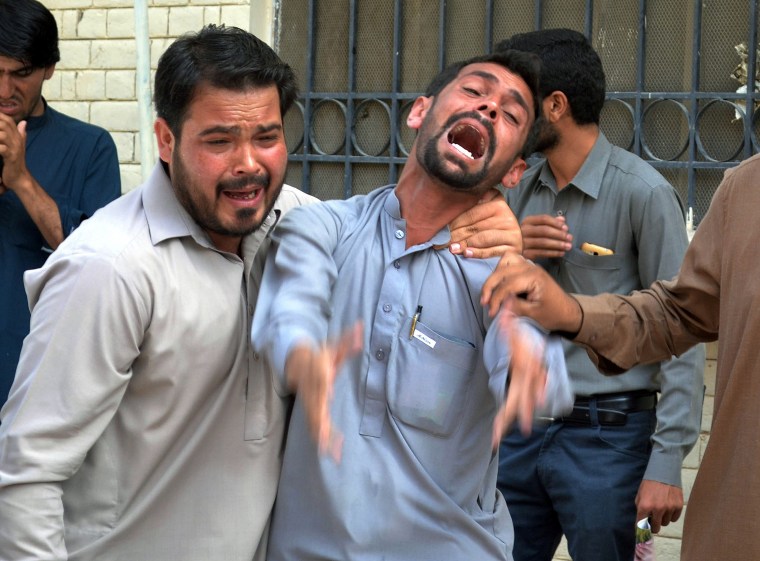 Targeted killings have become increasingly common in Quetta, the capital of a province that has seen rising violence linked to a separatist insurgency as well as sectarian tensions and rising crime.
Several ethnic Baluch separatist groups operating in the resource-rich province, but al Qaeda and other militant groups also have a presence there.
Quetta has also long been a base for the Afghan Taliban, whose leadership has regularly held meetings there in the past.
The White House and U.S. State Department both condemned the attacks, saying America remained committed to helping Pakistan confront terrorism.
The attackers targeted "important pillars of every democracy," State Department spokeswoman Elizabeth Trudeau said in a statement.
United Nations spokesman Farhan Haq called the attacks "appalling."