GREENSBORO, N.C. — If you're just tuning (back) in to the federal prosecution of John Edwards on charges stemming from $900,000-plus in payments from two Edwards political supporters to his mistress, Rielle Hunter, here's what's going on:
Who
• Defendant Johnny Reid Edwards (a Democrat and arguably the most famous lawyer to face a criminal trial since Clarence Darrow). U.S. senator from North Carolina from 1999 to 2005. John Kerry's running mate in 2004. One state away (Ohio) from being vice president of the United States.
• Edwards' lawyers: Washington-based Abbe Lowell, aided by North Carolina litigators Allison Van Laningham and Alan Duncan.
• The prosecutors: David Harbach of the Justice Department's Public Integrity Section and Robert Higdon Jr., a longtime federal prosecutor based in North Carolina.
Why
According to the arrest warrant (.pdf) and the indictment (.pdf), the financial support for Edwards' mistress constituted unreported, excessive and, thus, illegal campaign donations. Prosecutors say Edwards bears criminal responsibility for his role in the arrangement.
When
Money from two Edwards supporters — Fred Baron and Rachel "Bunny" Mellon — was used for the travel and living expenses of Hunter (as well as of political aide Andrew Young and his family) in 2007 and 2008 while Edwards was seeking the Democratic nomination for president. Edwards was indicted in June 2011. Jury selection started in April. Opening arguments were to begin Monday.
Where
U.S. District Court in Greensboro, N.C., on the third floor of the 80-year-old federal courthouse on Market Street).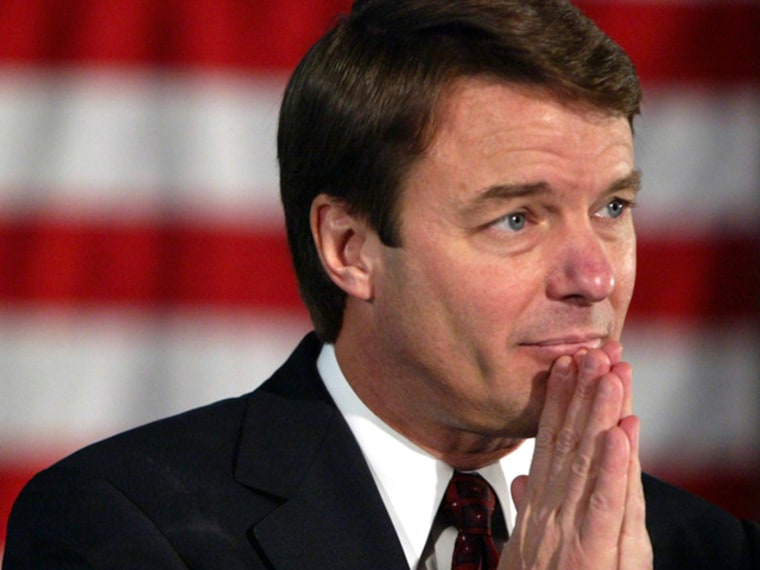 The Stakes
Edwards faces six felony counts (five of accepting excessive contributions, one of filing a false report with the Federal Election Commission), each of which carries a maximum sentence of five years in prison and a $250,000 fine. As for the government, this is the highest-profile case for the Public Integrity Section since the bungled prosecution of the late Sen. Ted Stevens, R-Alaska, in 2008.
The Arguments
In pretrial motions, Edwards complained about being tried for activity (money transferred from third parties to third parties) for which no one before has ever faced election law-related criminal charges and about alleged bias on the part of the prosecutor — who drove the investigation and indictment and then stepped down to run for Congress. Prosecutors disputed both claims, and the judge ruled in the government's favor. You can read Edwards's arguments here (.pdf) and here (.pdf) and the government's responses here (.pdf) and here (.pdf). In mid-April, the sides summarized their arguments in trial briefs; the defense's are here (.pdf), and the prosecution's are here (.pdf).
The Judge
U.S. District Judge Catherine Eagles spent a dozen years in private practice and 17 years as a state trial judge before being appointed to the federal bench by President Barack Obama in 2010.
The Jury
We won't know the demographics of the 12 jurors and the four alternates until the trial starts Monday, but extensive efforts have been made to find a fair and impartial group. A lengthy questionnaire followed by days of individual questioning resulted in Eagles' narrowing the initial 185-person pool to 42, all of whom she believes can be fair to Edwards and to the government. Each side is now set to exercise its peremptory challenges, meaning it can strike potential jurors without giving a reason.
Want to read more? Hampton Dellinger previewed the trial for The Atlantic:
Why the John Edwards Trial Is a Bigger Deal Than You Think
He has previously blogged about the trial for WTVD-TV of Raleigh-Durham, N.C.
An index identifying every legal motion and summarizing every court ruling from the indictment until the eve of trial is here (.pdf).