CAIRO - While Egyptians as a whole could be forgiven for being tired of elections -- there have been six so far since strongman Hosni Mubarak was toppled in 2011 -- the mood at one women's polling station in the heart of Cairo was unexpectedly upbeat on Monday.
Women of all ages, some of whom had lined up hours before the station opened, formed a messy and raucous line that stretched for two blocks. Some in the upper middle-class suburb of Cairo chanted "long live Egypt," waved flags and burst into cheers every time a security helicopter buzzed overhead.
Which candidate had captured so many of these women's hearts?
Abdel-Fattah el-Sissi, the former Minister of Defense and head of military intelligence who last year ousted the country's first freely-elected leader, Islamist Mohammed Morsi.
Amal Suleiman felt that Sissi -- widely tipped to beat leftist politician Hamdeen Sabahi -- will bring much-needed security.
"I love him because he will raise up the country," the 40-year-old teacher declared.
The country needs a lift.
Morsi dismayed millions who felt that he mismanaged Egypt's government and the economy and tried to impose an Islamist agenda on the whole country. After Morsi was toppled, the military initiated a ferocious and deadly crackdown on supporters of his Muslim Brotherhood party.
Mervat al Khalif, a retired teacher, pushed forward at the polling station Monday to explain her support for the military's former chief.
"Sissi is a man of the future, and strong. He can control the country well because he has a good background," the 75-year-old said.
One mother had dressed her toddler in military fatigues in honor of Sissi. Voters tried to take his picture but the boy burst into tears.
"He want's a juice box," said the mother, who declined to give her name.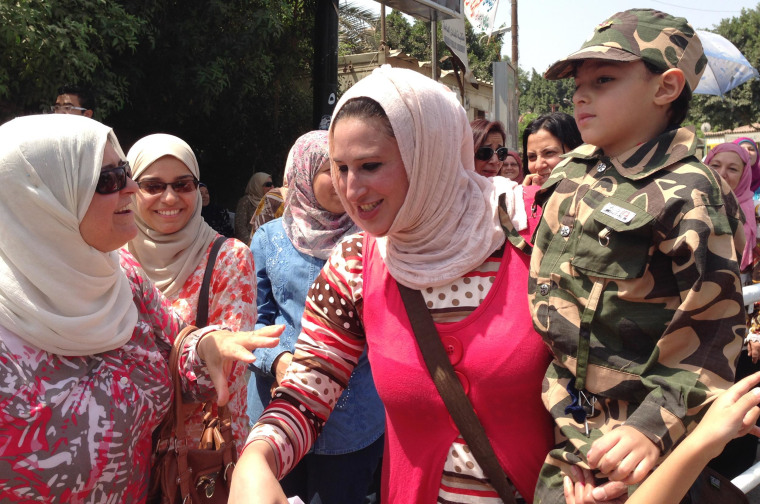 Nawal al Roody, a homemaker, cooked the day before so she would have time to vote.
"We are tired. After three years we want to rest," she said.
Sissi will still need to watch his back, though, according to Shereen Khedr, an insurance company executive who cast a ballot for Morsi at the same polling station two years ago.
The 35-year-old said Sissi would not hold onto power beyond his eight-year term limit because Egyptians would no longer accept a president for life.
"If he is not good, we will overthrow him," she added.