LONDON — American rapper ASAP Rocky has been charged with assault in Sweden and will go on trial next week, Swedish prosecutors and his lawyer said Thursday.
Rocky's lawyer, Slobodan Jovicic, announced at a news conference that the trial will start Tuesday.
The public prosecutor recommends that three days be set aside for the hearing, the Swedish Prosecution Authority said in a separate statement, adding that Rocky will remain in jail until the trial date.
President Donald Trump has involved himself in the case at the behest of first lady Melania Trump and rapper Kanye West and has offered to "personally vouch" for Rocky's bail.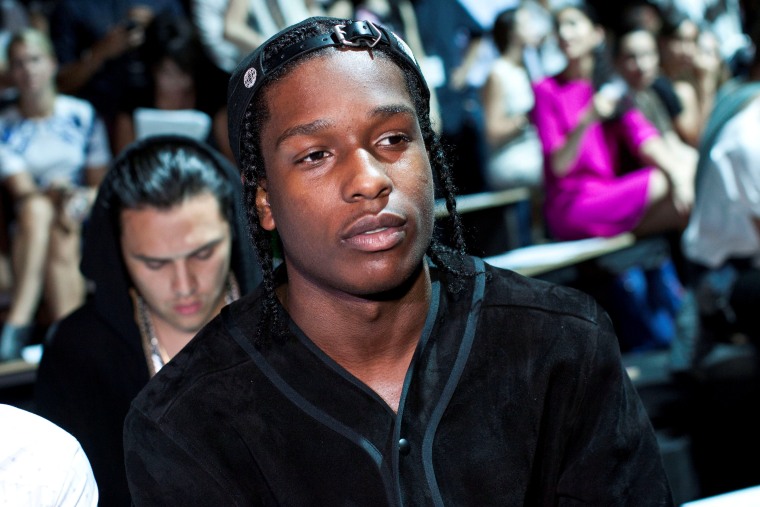 Trump blasted the decision Thursday and said he was "very disappointed."
"Very disappointed in Prime Minister Stefan Löfven for being unable to act. Sweden has let our African American Community down in the United States. I watched the tapes of A$AP Rocky, and he was being followed and harassed by troublemakers. Treat Americans fairly! #FreeRocky," Trump tweeted.
The president later demanded "Give A$AP Rocky his FREEDOM" and that "Sweden should focus on its real crime problem! #FreeRocky."
The rapper, whose real name is Rakim Mayers, 30, was detained on "probable grounds for serious assault" July 3. He was in Sweden to headline Smash x Stadion, a two-day hip-hop festival in the country's capital.
"I have today commenced criminal proceedings against the three individuals suspected of assault causing actual bodily harm, having come to the conclusion that the events in question constitute a crime and despite claims of self-defense and provocation," public prosecutor Daniel Suneson said Thursday.
Rocky and members of his entourage were alleged to have been involved in a brawl June 30 in downtown Stockholm in which authorities said a person was beaten and cut with broken bottles. He has denied the assault accusation.
Jovicic has maintained that Rocky and his associates were acting in self-defense after being provoked by the other men on the street.
"They begged and pleaded to be left alone," he said.
Last week, a district court judge ruled that Rocky was a flight risk and should remain in jail while the prosecutor's office investigated the case.
Rocky's arrest has caused an uproar among celebrities in the United States, with reality television star Kim Kardashian West and singer Justin Bieber among those calling for Sweden to free him.
Trump responded to calls to help Rocky and tweeted last week that he would call "the very talented Prime Minister of Sweden to see what we can do about helping" Rocky.
However, the next day, Löfven warned that Rocky would not get special treatment despite Trump's public intervention in the case.
"I will explain that the Swedish judicial system is independent," Löfven said of a possible call with the president.
"In Sweden, everyone is equal before the law, and this includes visitors from other countries."