Author J.K.Rowling and West Midlands Police in England are experiencing a serious case of expelliarmus today, with authorities and Rowling calling on fans to help them locate a missing untitled "Harry Potter" prequel.
Rowling penned the 800-word manuscript in 2008 for a charity auction, handwriting it over two sides of an A5 postcard. Authorities called the manuscript "extremely valuable" and said it was stolen, along with jewelry, from a property in Howard Road in Kings Heath, Birmingham, sometime between April 13 and 24.
Police appealed to Harry Potter fans internationally via Twitter Friday for help in solving the case.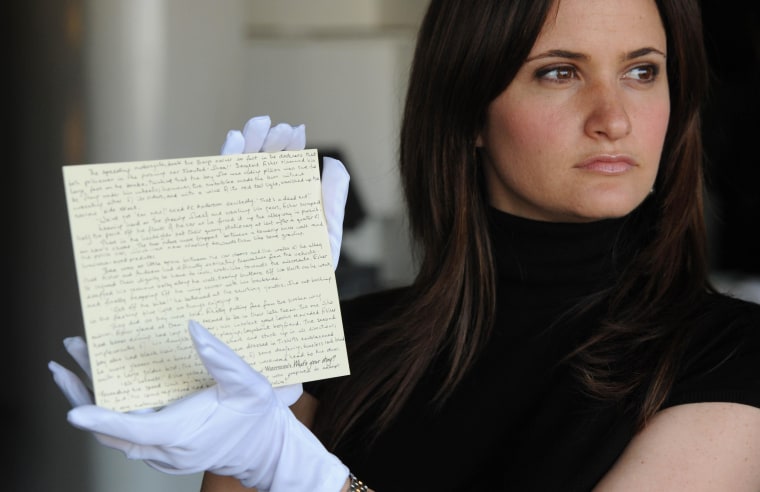 "The only people who will buy this unique piece are true Harry Potter fans," said investigating officer, Paul Jauncey. "We are appealing to anyone who sees, or is offered this item for sale, to contact police."
The manuscript was originally sold for 25,000 pounds ($49,000 at the time) to help fund two charities, Dyslexia Action and English Pen.
The untitled story revolves around the lives of a young James Potter, the titular boy wizard's father and his best friend, Sirius Black. Three years before Harry is born, both men come across two "muggle" (or non-magic) policeman who pursue them for speeding and not wearing helmets. They manage to escape in a flurry of broomsticks and a little bit of magic, local authorities noted.
"Please don't buy this if you're offered it. Originally auctioned for @englishpen, the owner supported writers' freedoms by bidding for it," Rowling tweeted.
Both Rowling and the police have asked fans to contact West Midlands Police or Crimestoppers for any tips or sightings of the unique postcard.
Some Harry Potter fans had fun with the news, and came up with innovative responses to Rowling's pleas.
"Only thing to do is hand write thousands of them and flood the market," tweeted Twitter user Petty Peculiarity.