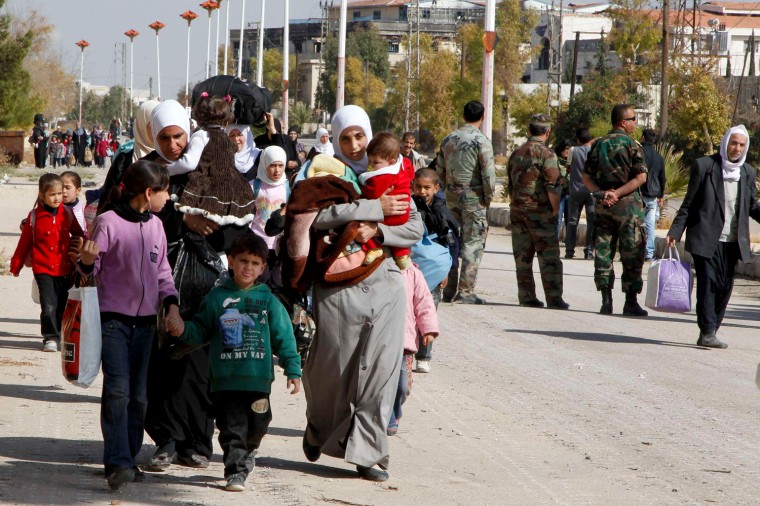 The bloody civil war in Syria saw a rare glimpse of cooperation between the government and rebels on Tuesday when some 1,800 civilians trapped in a besieged suburb of Damascus were allowed to flee, though thousands remained trapped with few supplies.
The evacuation from Mouadamiya was aided by the Syrian Arab Red Crescent and civil groups, a source told Reuters.
"I was living in terror and now I am free and safe with the army, thank God," a resident, who did not want his name to be used, said. "There is no food or water. We got out with a new spirit now."
Still, the residents who remain have little food, water or medicine.
Military forces loyal to Syrian President Bashar Assad have used sieges — the cutting off of vital supplies — in an effort to root out rebels.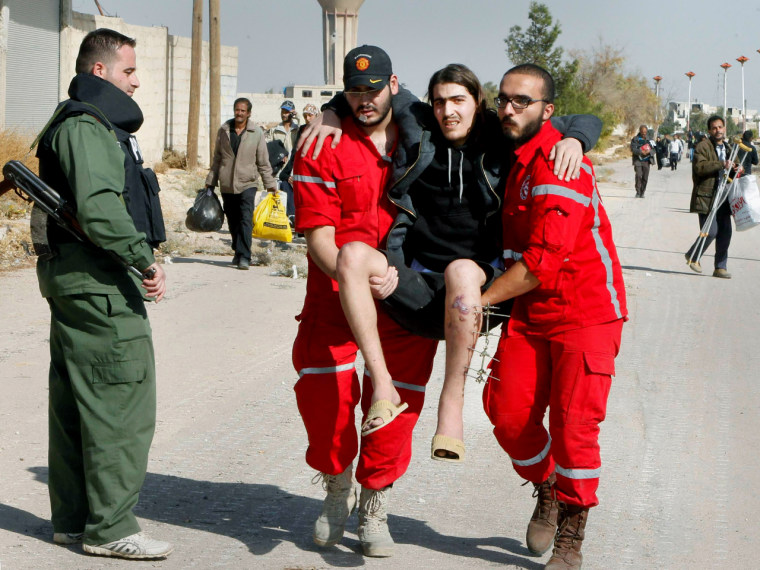 The government said the town's residents were being "held hostage" by terrorists.
Mouadamiya, on the southwest outskirts of Damascus, was taken by anti-Assad rebels last year but has since been under siege.
A letter attributed to residents and distributed by a leading opposition group earlier this month appealed to the world to "save us from death," and described dire conditions.
Tuesday's cooperation comes ahead of a meeting that aims to end the war, which has claimed more than 100,000 people and sent millions fleeing across the country's borders.
Also on Tuesday, Assad pardoned all "criminals" — a term often used by the regime to refer to political prisoners — whose crimes were committed before that day. Few specifics were available about that plan, however.
Those events came as the United Nations special envoy to Syria, Lakhdar Brahimi was in Damascus in an attempt broker peace negotiations between the warring parties.
Tuesday's evacuation from Mouadamiya was the third in the town. The United Nations has reported that 3,000 women and children had already left.
Opposition representatives told Reuters that 12,000 people still face starvation and death in Mouadamiya, which they describe as 90 percent destroyed.
Syrian authorities have faced growing international pressure to open humanitarian corridors to deliver needed aid to besieged civilians but relief agencies say they have not been granted access.
One nun who helped organize Tuesday's evacuation credited an astonishing assortment of contributors in the rescue of civilians from Mouadamiya.
"The minister of social affairs ... volunteers, our team, the people of Mouadamiya, outside and inside, the opposition and even the security services ... have contributed," Mother Fadia Lahham told Reuters.
Thabet Salem and F. Brinley Bruton of NBC News and Reuters contributed to this report.