This African giraffe doesn't have to stick her neck out to be noticed.
A 15-month-old called Omo is catching the eye at the Tarangire National Park in Tanzania for her pale white shade. A picture of her was snapped this month by the Wild Nature Institute, a North Carolina nonprofit run by a pair of wildlife biologists.
She was last spotted around the same time in 2015.
Scientist Derek Lee told NBC News that Omo is extremely rare — only the second recording of a white giraffe in Tarangire over the past 20 years. Tanzania's sixth-largest national park has some 3,000 of the mammals, known for their long necks and leopard-like spots.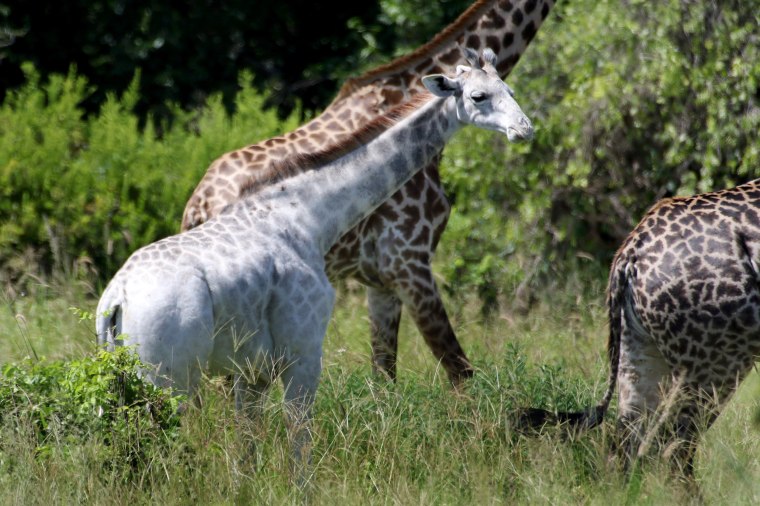 People might assume Omo, named after a local laundromat, is white because of albinism, which occurs because of lack of melanin in the skin.
But Lee said this giraffe has leucism — a partial loss of pigmentation that doesn't completely affect all cells, such as in the eyes.
"We were thrilled to find her alive and well," Lee, who has been studying giraffes with digital photos since 2011, said Tuesday. "About half of all giraffe calves are killed during their first year by lions, hyenas and leopards."
Lee said it's illegal to kill the creatures in Tanzania because it's the national animal, but illegal market hunting for meat is rampant around the national park.
"Unfortunately, all giraffes, not just the white ones like Omo, are threatened by bush meat poaching," Lee said. "Fortunately, Omo lives in a national park where she has the highest chance of survival thanks to anti-poaching efforts in the area."