BEIT UR AL-FAUQA, West Bank — Nearly 6,000 miles from Washington, family members of Rashida Tlaib hope her historic election to Congress can change American perceptions about Arabs and Muslims.
Rashida Tlaib, whose parents are Palestinian immigrants who settled in Michigan, was elected Tuesday to represent the state's 13th Congressional District. She will join fellow Democrat Ilhan Omar, a Somali-American from Minnesota who was also elected Tuesday, as the first Muslim women in the House.
Tlaib's relatives in the West Bank village of Beit ur al-Fauqa spent the week celebrating. They hope people in the U.S. will now realize they are not all terrorists.
"This is going to change the American view about Arabs and Muslims," her uncle Bassam Abdualla Tlaib told NBC News. "Now someone is going to change this point of view."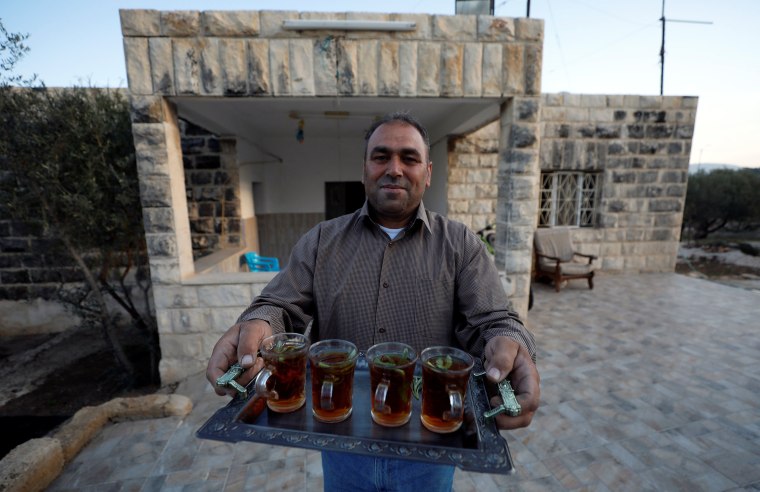 Tlaib's success wasn't surprising to her uncle, who said she earned the nickname "The Lawyer" at age just 10 due because of her ambitious nature and desire to help everyone.
Rashida Tlaib's parents left Beit Ur al-Fauqa for the U.S. in 1975, a year before she was born. Around one-third of the village's 900 people are members of her extended family.
Although the congresswoman-elect was born in the U.S., her uncle said she had faced "discrimination" from airport security officials.
Rashida Tlaib ran on a platform of "Medicare for All," a $15-an-hour minimum wage and improved funding for public schools. She served in the Michigan House from 2009 to 2014.
She told MSNBC on Friday she feels part of a "new era" of civil rights and social justice movements sweeping across America.
"Yes, I'm a woman. I'm a woman of color and, yes, I made history," said Tlaib, but "I feel like I'm part of this larger movement that's happening."
"We were marching as women outside of the Capitol and but now we're going to be able to march inside," she said. "We are now going to be at the table, be able to give a voice to so many people that feel left out right now."
Her uncle said she remained close to her roots, visiting Beit Ur al-Fauqa throughout her childhood.
He is proud that his niece plans to wear traditional Palestinian attire when she is sworn in early next year.
"This is a message. The message is saying, 'I am Palestinian,'" he said. "The Palestinian issue is her issue."
Family members also hope she will shed light on the plight of Palestinians.
"We want someone to ... let our voice be heard all over the world," her aunt Hayat Mussa Farah said. "We reached our goal now."
Lawahez Jabari reported from Beit Ur al-Fauqa, and Linda Givetash from London.
CORRECTION (Nov. 10, 2018, 9:55 a.m. ET): An earlier version of this article misstated who was the first Palestinian-American elected to Congress. It was Rep. Justin Amash, R-Mich. Rashida Tlaib was the first Palestinian-American woman elected to Congress.
CORRECTION (Nov. 10, 2018, 3:06 p.m. ET): An earlier version of this article misstated Michigan Rep. Justin Amash's party affiliation. He is a Republican, not a Democrat.