HAVANA -- Cuban President Raul Castro has unexpectedly raised the possibility of leaving his post, saying Friday that he is old and has a right to retire. But he did not say when he might do so or if such a move was imminent.
The Cuban leader is scheduled to be sworn in to a new five-year term on Sunday. Castro urged reporters to listen to his speech that day.
"I am going to be 82 years old," Castro said at a joint appearance with visiting Russian Prime Minister Dmitry Medvedev. "I have the right to retire, don't you think?"
When reporters continued to shout questions about his plans for the next five years, Castro replied: "Why are you so incredulous?"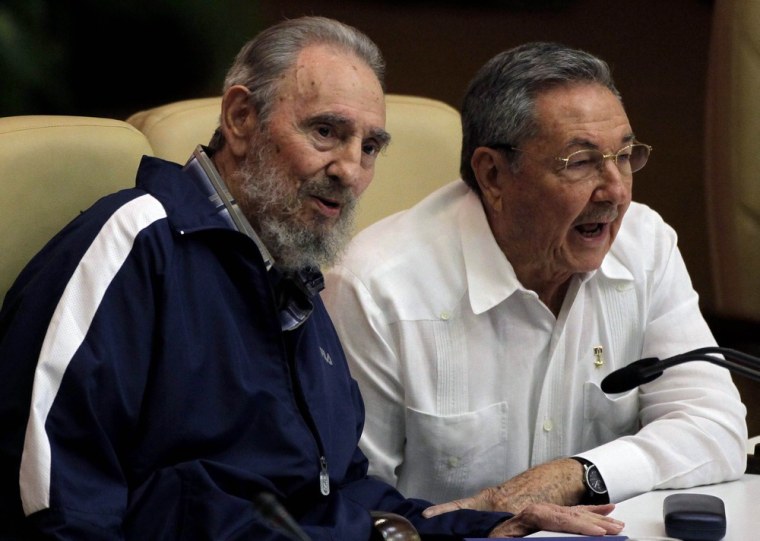 He said to listen carefully on Sunday.
"It will be an interesting speech," he said. "Pay attention."
Castro's tone was light and his comments came in informal remarks at a mausoleum dedicated to soldiers from the former Soviet Union who have died around the world.
The Cuban leader has spoken before of his desire to implement a two-term limit for all Cuban government positions, including the presidency. He has also alluded to the limited time he has left to overhaul the island's weak Marxist economy.
That has led many to speculate that this upcoming term would be his last, though term limits have never been codified into Cuban law.
Most Havana residents had not heard about Castro's comments, which had not been reported on Cuban television. Many reacted with skepticism.
"Who would they put in?" asked Marta Alvarez, a 45-year-old housewife walking through Old Havana. "But I don't think it would be now. It would happen in five years."
Castro will be 86 when his next term ends in 2018. Up until now, all eyes had been on who would emerge as Castro's first and second vice presidents during Sunday's proceedings. The positions are currently occupied by two loyal octogenarians who fought in the 1959 revolution.
Putting someone younger in one of those roles would be the first sign that Castro was settling on a potential next-generation successor, something he and his brother Fidel have never done, even as many comrades have succumbed to old age.
As far back as December 2010, Castro began to reflect on his responsibility, and that of his aging generation, to right Cuba's economy, noting that the actuarial tables leave them few remaining years.
"The time we have left is short, the task is enormous," he told lawmakers in his year-end speech that year. "I think we have an obligation ... to set (the country) on the right course."
When Raul Castro does leave the political stage, it would end more than a half century of unbroken rule by the two brothers, who came to power in 1959 at the head of a revolution against U.S.-backed strongman Fulgencio Batista.
Relations with the United States have been sour since shortly after the revolution. One of the key provisions of the 51-year U.S. economic embargo on Cuba stipulates that it cannot be lifted while either of the Castros is in power.
Castro has implemented a series of economic and social reforms since taking over from his ailing brother in 2006, but the island is still ruled by one party. Fidel Castro is 86 and retired, and has seemed increasingly frail in recent appearances.
Related: 
Fidel Castro makes first extended public appearance since 2010
Cuba's jailing of American contractor 'arbitrary,' UN panel concludes