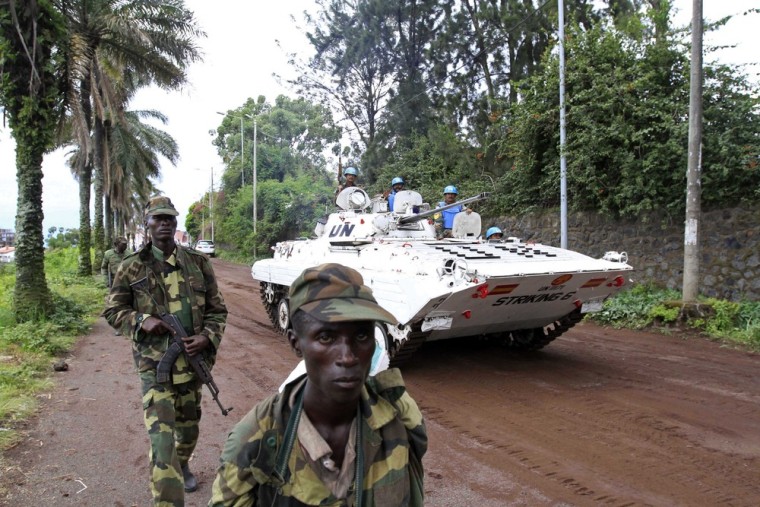 GOMA, Democratic Republic of Congo -- Rebel forces in eastern Congo said Wednesday they planned to take control of the entire country after capturing the city of Goma as United Nations peacekeepers looked on.
A spokesman for the M23 rebels -- a group widely believed to be backed by Rwanda -- said they planned to "liberate" the country by marching on the capital, Kinshasa, nearly 1,000 miles away.
The rebels had previously said they were seeking talks with Democratic Republic of Congo's President Joseph Kabila.
"The journey to liberate Congo has started now ... We're going to move on to Bukavu and then to Kinshasa. Are you ready to join us?" Vianney Kazarama, spokesman for the M23 rebels, told a crowd of more than 1,000 in a stadium in Goma.
PhotoBlog: Congo police surrender as rebels take control of Goma
Goma fell Tuesday when hundreds of rebel fighters poured into the city and government troops melted away after sporadic gunfire.
Rebels used local radio and television stations to appeal for calm, but there are fears of human rights abuses and tens of thousands of people had already fled days of fighting between the rebels and U.N.-backed Congolese soldiers.
Rebel army seizes control of Congo city as UN peacekeepers do nothing
The M23 rebellion has aggravated tensions between Congo and its neighbor Rwanda, which Kinshasa's government says is orchestrating the insurgency as a means of grabbing the region's mineral wealth, which includes diamonds, gold and coltan, a metal used in mobile phones.
While conflict has simmered almost constantly in Congo's east in recent years, this is the first time Goma has fallen to rebels since foreign occupying armies officially pulled out under peace deals at the end of the most recent 1998-2003 war, dubbed "Africa's World War" because so many countries became involved. 
Aid agencies have estimated that 5 million people have died from fighting and conflict-related disease since the 1998 war began.
Congo rebel clashes stoke fears of broader conflict
Diplomats at the United Nations and regional mediators in Central Africa have been seeking to prevent an escalation of hostilities in Congo, which is the size of Western Europe.
Kabila and Rwandan Paul Kagame were due to meet later on Wednesday after holding three-way talks with Ugandan President Yoweri Museveni late on Tuesday, sources in the Ugandan presidency said.
Rights group blasts Rwanda winning seat on UN Security Council
In New York, the U.N. Security Council unanimously adopted a resolution late on Tuesday condemning the seizure of Goma and demanding that M23's forces should withdraw and disband.
The council also expressed "deep concern at reports indicating that external support continues to be provided to the M23."
Hague war crimes court to finds Congo warlord guilty
The French government expressed frustration with U.N. peacekeepers, who gave up the battle for the city of a million people after Congo's army retreated, saying it was "absurd" that the U.N. force did not protect the city.
"MONUSCO [the U.N. force] is 17,000 soldiers, but sadly it was not in a position to prevent what happened," French Foreign Minister Laurent Fabius said of the U.N.'s Congo mission. "It is necessary that the MONUSCO mandate is reviewed."
Congo crisis exacerbated by heavy rains
But a senior U.N. official, who spoke on condition of anonymity, said the withdrawal of civilian and military Congolese officials had left a void it could not fill alone.
"We're not the army of any country, let alone the Congolese army, and it's not for us to take positions by ourselves to stop a rebel attack or the movement of rebels," the official said. "Our job is to protect civilians."
Reuters contributed to this report.
More world stories from NBC News: