The Middle East braced for sectarian violence Saturday after Saudi Arabia said it had executed 47 prisoners, including a prominent Shiite cleric responsible for anti-government protests.
There were warnings of a backlash against the ruling Al Saud family after Sheikh Nimr al-Nimr was named on list of prisoners carried by the state-run Saudi Press Agency.
Al-Nimr was a central figure in protests that erupted in 2011 as part of the Arab Spring, and his execution may spark new unrest among the oil powerhouse's Shiite minority.
Related: Crucifixion Sentence in Saudi Arabia Sparks Outcry
Scores marched through Nimr's home district of Qatif shouting "down with the Al Saud" and, in the neighboring country of Bahrain, police fired tear gas at several dozen people who gathered to protest the news, The Associated Press reported.
In Iran, a Shiite theocracy, videos on social media purported to show protesters storming the Saudi Embassy in the capital of Tehran, lighting it on fire. The videos were not independently verified by NBC News.
Lebanon's Supreme Islamic Shiite Council called the execution a "grave mistake," and the Hezbollah group termed it an assassination. Ayatollah Ahmad Khatami, an establishment cleric in largely Shiite rival Iran, said repercussions against the Sunni Saudi rulers would "wipe them from the pages of history,"
Saudi Arabia carried out at least 157 executions in 2015, with beheadings reaching their highest level in the kingdom in two decades, according to several advocacy groups that monitor the death penalty worldwide.
The country's interior ministry said those executed had "stood fair trials with full respect to due process under Islamic criminal law."
In a statement, it said the 47 had been convicted of "terrorist crimes against innocent people, properties, and security forces" or of "spreading disorder and exposing national security and safety to dangerous threats."
Maya Foa, a spokeswoman for rights group Reprieve, said 4 of the 47 were political prisoners.
"Last year saw Saudi Arabia execute over 150 people, many of them for non-violent offenses," she said. "This appalling news suggests 2016 could be even worse. Alarmingly, the Saudi Government is continuing to target those who have called for domestic reform in the kingdom.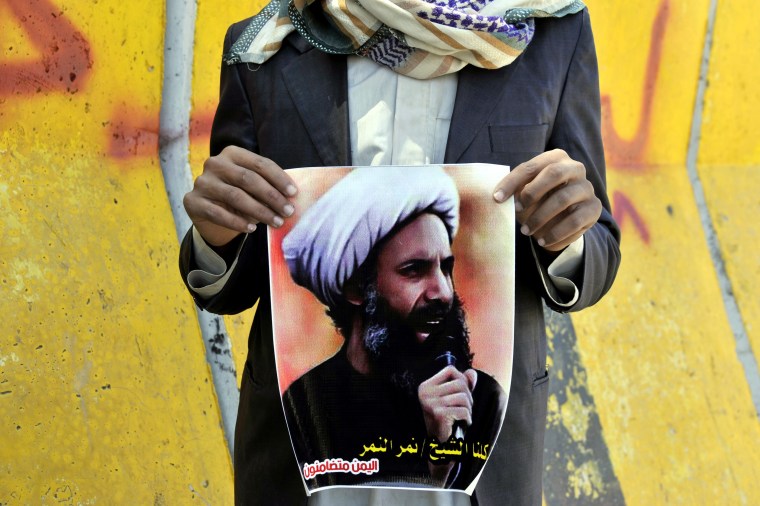 "There are now real concerns that those protesters sentenced to death as children could be next in line to face the swordsman's blade. Saudi Arabia's allies - including the US and UK - must not turn a blind eye to such atrocities and must urgently appeal to the Kingdom to change course."
Al-Nimr, who was in his 50s, had been a vocal critic of Bahrain's monarchy, which forcibly suppressed protests in 2011 with the help of Saudi troops. He was popular among disgruntled youth in both Bahrain and Saudi Arabia.
He never denied the political charges against him, but maintained he never carried weapons or called for violence.
Nimr's 17-year-old nephew was sentenced to crucifixion earlier this year but was not on Saturday's list.
The U.S. State Department said it urged the Saudi government "to permit peaceful expression of dissent and to work together with all community leaders to defuse tensions in the wake of these executions."
"We are particularly concerned that the execution of prominent Shia cleric and political activist Nimr al-Nimr risks exacerbating sectarian tensions at a time when they urgently need to be reduced," said John Kirby, spokesman for the State Department.
Husain Abdulla, executive director of regional campaign group Americans for Democracy & Human Rights in Bahrain, said: "Saudi Arabia was able to commit the crime of executing Shaikh Nimr Alnimr because it felt the international community is silent on its gross human rights violations records and its slave like treatment to the women and men of Saudi Arabia.
"In the strongest possible terms we condemns the execution of Shaikh Nimr Alnimr. He was innocent and his execution is the example of injustice of the justice system in Saudi Arabia."
Iraq's prime minister condemned al-Nimr's execution amid calls from prominent religious and political figures to sever ties with Riyadh and abort a recent rapprochement.
The Sunni-ruled kingdom reopened its embassy in Baghdad this week for the first time since ties were cut in 1990 over Iraq's invasion of Kuwait, underscoring fence-mending efforts that could help boost a regional alliance against ISIS.
But Saturday's execution of al Nimr drew calls in Iraq for the embassy to remain shuttered, while Prime Minister Haider al-Abadi warned of repercussions for regional security.
Iran, meanwhile, summoned the Saudi charge d'affaires in Tehran, accusing the kingdom of using terrorism as a pretext to suppress peaceful dissent among Shi'ites, who complain of systemic discrimination.
And the website of Khamenei carried a picture of a Saudi executioner next to notorious ISIS executioner 'Jihadi John', with the caption "Any differences?".