BERLIN — Reinhold Hanning, a former SS sergeant whose conviction last year on 170,000 counts of accessory to murder for serving as an Auschwitz guard was hailed as a long-overdue victory for Holocaust victims, has died. He was 95.
Hanning died on Tuesday, his attorney Andreas Scharmer told The Associated Press on Thursday without providing further details.
Hanning was convicted last June in Detmold state court in northwestern Germany and sentenced to five years in prison, though he never served time behind bars as his case was still being appealed.
Unlike most other death camp guards who have been brought to trial, Hanning apologized for his wartime service in Auschwitz from January 1942 to June 1944, telling Holocaust survivors from around the world who attended the proceedings that "it disturbs me deeply" to have been a part of the Nazis' genocidal machinery.
"I am ashamed that I saw injustice and never did anything about it, and I apologize for my actions," he said, speaking with a weak voice into a microphone while sitting in a wheelchair. "I am very, very sorry."
Hanning joined the Hitler Youth with his class in 1935 at age 13, then volunteered at 18 for the Waffen SS at the urging of his stepmother. He fought in several battles in World War II before being hit by grenade splinters in his head and leg during close combat in Kiev in 1941.
Following the injury, his commander decided he was no longer fit for front-line duty and assigned him to Auschwitz.
In a statement to the court, Hanning said he didn't know what Auschwitz was at the time but quickly found out.
"People were shot, gassed and burned. I could see how corpses were taken back and forth or moved out," he said. "I could smell the burning bodies; I knew corpses were being burned."
Nearly 1 million Jews and tens of thousands of others were killed in Auschwitz, which was located in Nazi-occupied Poland.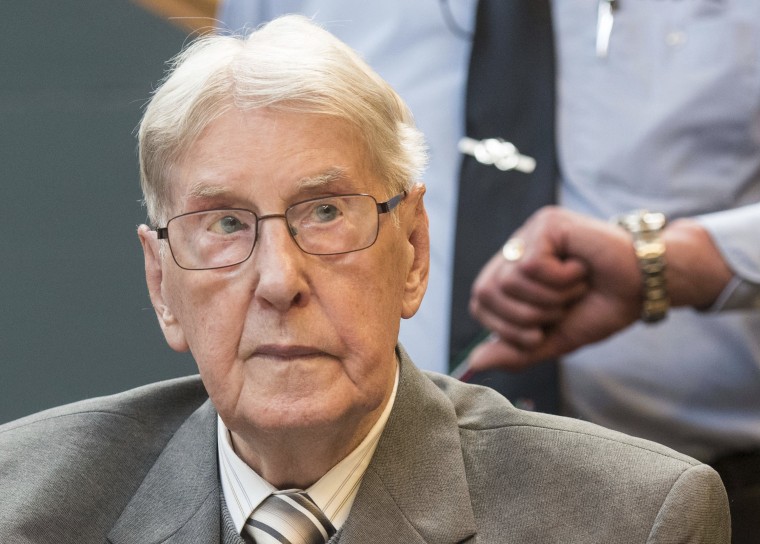 Though his own duties were not directly linked to the killings, with him being initially assigned to register patrols and work details and later posted to a guard tower, he was tried under new legal reasoning in Germany that anyone who helped a death camp function can be held culpable as an accessory to murder.
That argument was first successfully used in 2011 in Munich to convict former Ohio autoworker John Demjanjuk on allegations he served as a Sobibor death camp guard. Although Demjanjuk denied serving at the death camp and died before his appeal could be heard, it opened a wave of new investigations by the special prosecutor's office in Ludwigsburg responsible for Nazi war crime probes, including that of Hanning.
The argument was also used in the 2015 conviction of former Auschwitz guard Oskar Groening, whose appeal was rejected last year by a top court, firmly establishing the precedent.
At his trial, Hanning told the court he had never spoken about his wartime service, even to his family, but wanted to use the public forum to set the record straight.
"I've tried my whole life to forget about this time," he said. "Auschwitz was a nightmare."