Two members of the family of Osama bin Laden were reportedly killed in a plane crash in England Friday.
The Phenom 300 jet crashed at Blackbushe Airport in Hampshire, about 40 miles southwest of London, at around 3:09 p.m. (10:09 a.m. ET) while attempting to land, the airport said in a statement. All four aboard were killed, a Hampshire police spokesman said.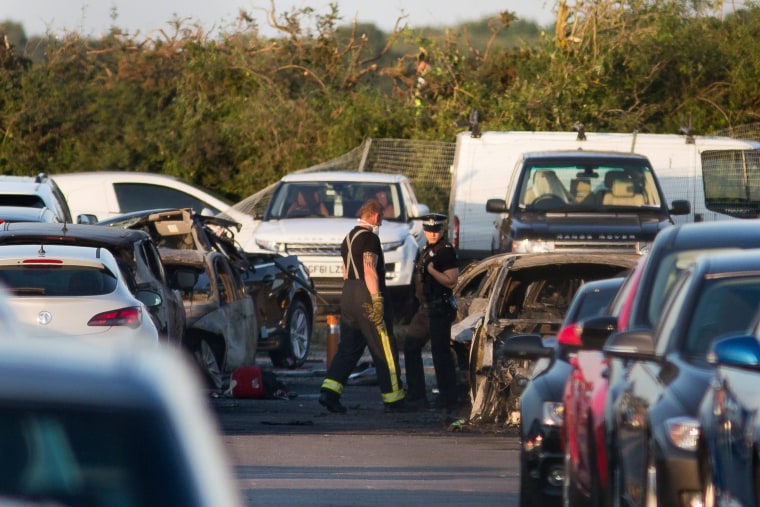 A bin Laden family friend told NBC News that the victims include Rajaa Hashim, stepmother of Osama bin Laden; Sana bin Laden, Osama bin Laden's half-sister; and her husband, Zuhair Hashim.
The Saudi Embassy in the United Kingdom said in a post on Twitter Friday that Prince Mohammed bin Nawaf offered his condolences to the bin Laden family. The Saudi government said the jet was a Saudi-registered aircraft.
Osama bin Laden, the al Qaeda leader who masterminded the Sept. 11 terror attacks, was killed in a raid by Navy SEALs in May of 2011.
Related: Documents Reveal Osama bin Laden's Obsession With Conspiracies
Osama bin Laden comes from a very large, wealthy family. Mohammed bin Laden, Osama's father, had nearly two dozen wives and a total of 54 children, journalist Craig Unger, who researched the bin Laden family for his book "House of Bush, House of Saud" told NBC News in 2004.