TEGUCIGALPA — Honduran police said on Tuesday they believe a headless torso found in a part of the country ravaged by Mexican drug cartels is that of a popular television journalist kidnapped last month.
Honduran police chief Juan Bonilla said officers found the clothing Anibal Barrow was last seen wearing and a savings account booklet in his name near the partially buried and decomposing remains in the northern city of Villanueva.
The evidence suggested the body, which had also had its legs and arms removed, belonged to Barrow, Bonilla said.
Four people have been arrested in connection with the killing, and police are looking for six other suspects, he said, adding that no motive for the murder has been established.
Police were continuing to comb the scene for body parts, a security official told Reuters.
Lying about 103 miles north of Tegucigalpa, Villanueva is next to San Pedro Sula, Honduras' second-largest city.
Violence linked to organized crime in Honduras has surged in recent years, partly due to the presence of Mexican drug gangs that use the country as a transit point for contraband.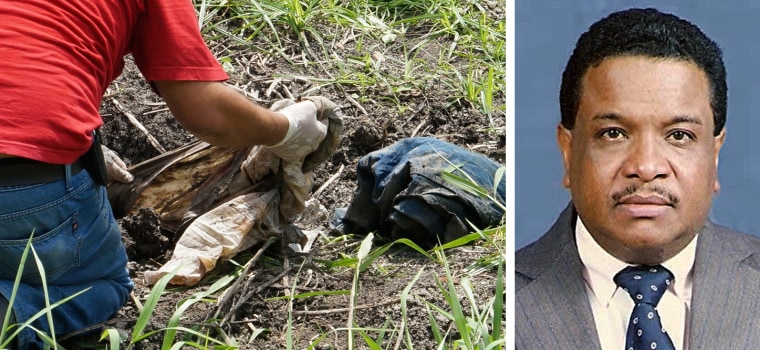 Barrow, 58, a popular morning news anchor on Globo TV, one of Honduras' largest broadcasters, was abducted by armed men on June 24 in downtown San Pedro Sula.
His death would put the number of murdered Honduran journalists since 2010 at 28, according to the country's human rights commission. It would also be the first time a journalist had been decapitated and dismembered in Honduras.
"This horrendous crime intimidates all Honduran journalists. We strongly urge authorities to clarify ... whether or not the motive (for the crime) was his profession," said Juan Mairena, president of the country's journalist association.
Honduras has the highest murder rate in the world, according to the United Nations, with 87 killings per 100,000, while San Pedro Sula is the world's most murderous city.