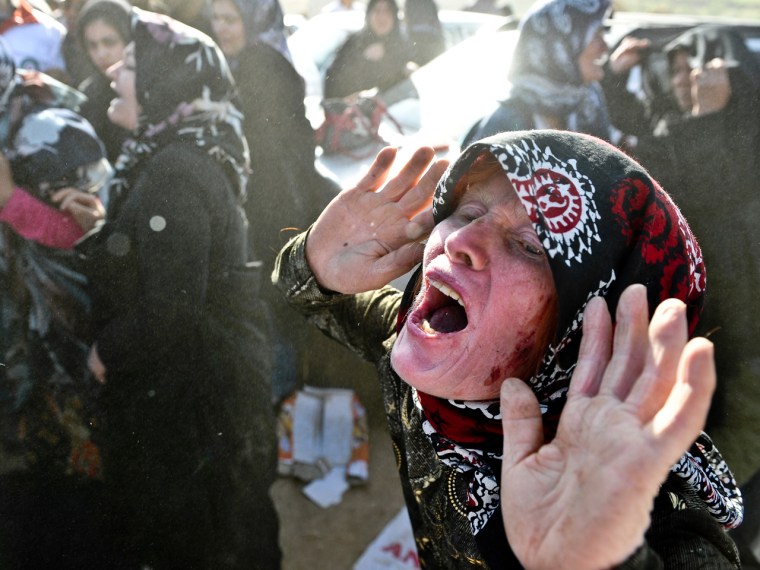 The death toll after twin earthquakes struck rural northwest Iran jumped to 306 on Monday -- with most of the victims women and children, local media reported.
Health Minister Marzieh Vahid-Dastjerdi added that 3,037 people were injured in Saturday's temblors, Iran's state-run Press TV reported.
Of the 306 deaths, morgues had counted 219 women and children and 49 men, pan-Arab news channel Al Jazeera reported quoted Vahid Dastjerdi as saying.
The discrepancy between the number of bodies in morgues with the official death toll appeared to stem from the fact that some of those who died during the earthquakes were buried before officials arrived at the scene, according to Al Jazeera.
'People need help': Iran hospitals swamped by earthquake victims
Thousands huddled in makeshift camps or slept in the street after Saturday's temblors for fear of more aftershocks, 60 of which had already struck. A lack of tents and other supplies left them exposed to the night chill, one witness told Reuters.
The worst damage and most casualties appeared to have been in rural villages around the towns of Ahar, Varzaghan and Harees, near the city of Tabriz, Iranian media reported. 
Tabriz resident Ahmad, 41, told Reuters his cousin living in a village near Ahar was killed and his body found. 
"Nobody knows what happened to his wife and two daughters," aged four and seven, Ahmad said. "We fear that if rescuers don't get to them soon, they will lose their lives too if they're still alive." 
But Iranian officials said rescue operations had ended by Sunday afternoon and that all those trapped beneath the rubble had been freed, according to Press TV. 
Many villages are hard to reach by road, hindering rescue efforts. Hospitals in Tabriz, Ardabil and other cities nearby took in many of the injured, residents and Iranian media said, and there were long queues of survivors waiting to be treated. 
"I wanted to go there last night to help but heard there was bad traffic and that it wasn't safe enough," Ahmad said. "People in those villages need help." 
'Toll will rise'
Abbas Falahi, member of parliament for Ahar and Harees, said people in some villages were still "in dire need of food and drinking water," the semi-official Mehr news agency reported. 
"Despite the promises of officials, little first aid has been distributed in the region and most people are left without tents. If the situation continues, the toll will rise," he said. 
The U.S. Geological Survey measured Saturday's first quake at 6.4 magnitude and said it struck 37 miles northeast of Tabriz, a trading hub far from Iran's oil-producing areas and known nuclear facilities.
Stay informed with the latest headlines; sign up for our newsletter
The second, measuring 6.3, struck 11 minutes later near Varzaghan, 30 miles northeast of Tabriz.
More than 1,000 villages in the area were affected by the earthquakes, Ahmad Reza Shaji'i, a Red Crescent official, told the Iranian Students' News Agency (ISNA). Some 130 villages suffered more than 70 percent damage, and 20 villages were completely destroyed, he said. 
The government set-up a fund to help affected residents quickly rebuild their homes before winter hit in around four months, Al Jazeera reported. A grant of nearly $1,000 per family was approved, alongside low-interest loans of up to $6,000, it reported.
Reuters contributed to this report
More world stories from NBC News: